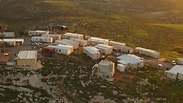 The Asael outpost near Hebron
Photo: Courtesy of the community
The West Bank's Civil Administration High Planning Subcommittee authorized the promotion of 2,304 homes in settlements and outposts, of which 838 received a final approval for construction.

Some of the planned construction will take place in illegal outposts, thus formally granting them the state's approval; 98 homes in the Ibei HaNahal outpost and 98 in the Givat Sal'it outpost were approved for early planning.

A plan to promote an educational facility in the Haroe Ha'ivri outpost, near Ma'ale Edumim and the Palestinian village of Khan al-Ahmar, set to be evicted for lack of permits, was also approved for early planning.

The Gush Etzion Regional Council Head, Shlomo Neeman, said in response that, "this is huge news for the south-east of Gush Etzion, to Jewish settlements in the Judean Desert and to the entire settlement movement."

The Peace Now leftist movement said that approving the building of new homes in West Bank settlements is "a part of the destructive policy set to prevent a peaceful solution and the two-state solution and bring about the annexation of the West bank."

"Hypocrisy is sky rocketing when the government grants its approval to an illegal outpost built by Israelis right next to the Palestinian village of Khan al-Ahmar, where construction isn't allowed.

"The wrong is unforgivable when after destroying 72 homes because they built by the separation barrier in Wadi al-Hummus, the government approves a whole neighborhood for settlers by the barrier fence," concluded the organization statement.