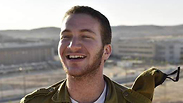 Trans IDF soldier Leon Bor
Photo: Amit Gershon
Israel's army is taking into account a slow but steady growth in number of transgender soldiers going through sex change processes before or during their military service, and is making more effort to integrate them into the system.
As of today, there are dozens of transgender troops serving in the military – including combat soldiers and officers. According to the senior officer overseeing gender issues and treatment of transgender soldiers in the military, the IDF has made a series of adjustments and is continuing to develop policies regarding this rapidly growing phenomenon.
Years have passed since the military's treatment of transgender soldiers totaled in administration of hormonal pills. Treatment nowadays begins in the first stages of the recruitment process, and Brig. Gen. Nir has instructed staff at induction centers to address a candidate using their chosen gender identity and new name to avoid causing them any harm and embarrassment on their first steps in the military.
One of the things that offend some transgender people is being addressed their previous or "dead" name.
"We are trying to minimize this as much as possible," the senior officer says. "That is why we issued this instruction to the induction center. We asked doctors who examine the new recruits to be aware of sensitivities and respect them. Most doctors have trained in order to increase their awareness on the issue."
According to the officer, the pre-recruitment phase is paramount for the success of a transgender soldier's integration into the IDF. The highest-ranking transgender soldier currently serving in the IDF is an officer with the rank of captain.
Pre-recruitment "is a stage that can affect where they'll be assigned," the officer says. "The candidate may still be a man who has decided to transition to a woman, so the screening processes that they have to go through will be different and suitable for women. The candidates come for an introductory meeting, where they talk to a trained consultant who lists their rights and obligations and assists them in every way."
The shift has even led foreign military officers to consult their IDF counterparts at NATO conferences about dealing with transgender soldiers, especially in the wake of the controversial ban on transgender troops in the U.S. Army imposed by Donald Trump.
Despite the seemingly rosy picture being painted, there are still reports of homophobia and transphobia in the IDF.
"A person's sexual orientation is not something to mess with – ultimately, a soldier is a soldier, no matter whom they go to sleep with at night", said the senior officer, who has commanded combat units in the past.
"We deal a lot with this phenomenon and fight any display of homophobia and transphobia in the army. It is categorized as sexual harassment and degrading behavior towards a person's sexuality and sexual orientation," she said.