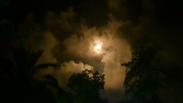 The night of the incident on the Gazan border
Photo: Barel Efraim
The Israel Defense Forces has suspended four soldiers for failing to engage the enemy during an infiltration incident on the Gazan border on August 1.
The IDF investigation into the incident found that the armed Palestinian who crossed the border fence carrying an AK-47 assault rifle and grenades was observed by Israeli security forces about 250 meters from the barrier, and a force from the Golani Brigade headed by a squad commander was dispatched.
The commander of the force left his military vehicle and started exchanging fire with the gunman, during which the commander was moderately wounded. Two of his soldiers were also lightly wounded by gunfire.
Additional forces joined the hunt for the gunman, one of which reportedly refrained from acting out of fear of friendly fire due to the multitude of soldiers in the area.
The terrorist was reportedly on Israeli territory for about two hours before being eliminated as the IDF tried to avoid misidentification of Israeli forces.
The gunman, later identified as 20-year-old Hani Abu Salah, was a member of the military wing of the Hamas terror organization that rules Gaza.
Abu Salah was serving in a Hamas division in charge of securing the border with Israel from independent, non-Hamas rocket launchers and preventing infiltrations into Israel.
IDF officials say that the investigation found some very commendable operational actions alongside defects in the conduct of one of the forces.
The investigation results led the commander of the Golani Brigade, Maj. Gen. Shai Klapper, to suspend the squad leader and two soldiers from duty for not acting as expected during an operational event.
The driver, who was from the Gaza Division, was also suspended.
"Every operational event in the IDF is thoroughly investigated in order to learn from it and this is what happened in this incident," the IDF Spokesperon's Unit said.