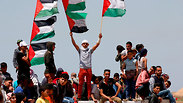 Palestinian protesters in Gaza
Photo: AFP
Source: Israel will help Palestinians leave Gaza, if they have new country to go to
Official says Gazans could even depart from Israeli airports, subject been raised in cabinet meetings but no nation willing to take them in; PM says he is 'advancing a broad campaign in Gaza' in wake of recent tensions
KIEV, Ukraine - Israel is ready to open the border crossings from Gaza and is even ready to allow Gazans to fly out of its territory so long as there are countries that will absorb them, a government source said Monday.

"Israel is even willing to arrange transportation for them, at least to one of the airports in the Negev (Desert) and arrange for them to travel out of the country," the source said.

According to the official, this issue has been brought up several times to the Cabinet.

"Attempts have been made with certain nations (to persuade them to accept them) but they have not succeeded," the source said.

He said that 35,000 Palestinians voluntarily left the Gaza Strip last year without the aid of Israel.

"They are being held hostage in Gaza," he said. "Today countries are not raising the humanitarian situation in Gaza."

Israel has for years kept its border with the Hamas-run Gaza Strip closed and guarded and has imposed a land, sea and air blockade of the coastal enclave, arguing that it needs to prevent terrorist groups from smuggling in weapons.

Meanwhile, the tensions between Israel and the Gaza Strip continue following the recent violence, which saw both rocket strikes on Israel and retaliatory attacks as well as several attempted armed infiltrations into Israel.

Prime Minister Benjamin Netanyahu, who is visiting Ukraine, on Monday addressed the likelihood of a fresh military operation in Gaza.

"I am advancing a broad campaign in Gaza. I cannot tell you what we are doing and what preparations we have made and how much we are preparing, but some of our critics know too well that we are doing things that we have not done before and that we are ready for action," the prime minister said.

"On the other hand, I am not hiding my objective of maintaining quiet and security on the Gaza front," he said|.

"To say that we have no deterrence is nonsense, because Hamas is issuing fatwas (religious Islamic rulings) against terrorist attacks. We are preparing for a broad campaign. If that happens and it may, you will see exactly what it is. It will be different than before."

Netanyahu also denied reports that he has earmarked Israel's Ambassador to the U.S. Ron Dermer and Mossad chief Yossi Cohen as possible successors in the Likud party.

"I am not appointing an heir, and I did not say anything of the sort. It is the public who decides who the prime minister is," he said.

He denied allegations that the visit to Ukraine was planned out of electoral considerations ahead of the September 17 vote, and part of his efforts to win over the votes of immigrants from the former Soviet Union.

"The visit was decided after the April elections and before the repeat elections," Netanyahu said.