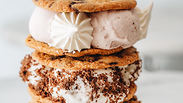 Ice cream sandwich at Stefan Gelato (Photo: Buzzy Gordon)
It is hard to believe that three years has passed since we last dedicated a review to "sweet spots" (Note: Arte Gelateria is still going strong, but Gerald Patisserie has, alas, closed). It is nice to know that even in summer we can indulge in decadent sweets that even have a cooling effect: what follows is a list of seven places that feature gourmet ice cream, frequently as part of an artistic creation that elevates the experience to something extraordinary. The eateries are listed in alphabetical order; since most serve only dairy products, not all places are classified as to kashrut.
Bli Kemah
This bakery-cum-café has made quite a splash among Israel's gluten-free community. Its secret lies partly in its name -- Hebrew for "without flour" -- but mostly in its special faux flour mixtures, which are the basis of some 200 items in the shop, made from 100 original recipes. The establishment sells a complete line of breads and pastries, of course, but also specialty foodstuffs, such as candies and imported gluten-free pastas and sauces. Bli Kemah is especially proud of its macaroons, which one Israeli magazine judged the best in Tel Aviv.

Bli Kemah is in this article by virtue of its pop-up this summer featuring ice cream sandwiches made with gluten-free cookies. The concept is build-your-own: pick any two cookies (mix or match) from a choice of three flavors -- salted caramel, dark chocolate or blondie chocolate chip with hazelnuts -- then watch as French vanilla soft-serve ice cream fills the void between the cookies.

Next, it's your turn again: choose one of three syrup flavors -- salted caramel, homemade red berry, or hot chocolate (which hardens into a shell on the cold ice cream) -- which will be ladled over the ice cream. Finally, pick one of the three toppings -- baby marshmallows, pralined almonds or brownie crumble -- and your decadent treat is ready to dig into.

To Bli Kemah's credit, it realizes that Israelis enjoy ice cream past the traditional summer months: the pop-up runs to the end of September.

Bli Kemah. Kosher (without certification, closed on Shabbat)

HaBarzel St. 32, Tel Aviv

Tel. (03) 744-8666.
Bretonne Crêperie
This is the one eatery on our list where the ice cream component is not in its traditional form, but rather in the guise of one of its raw materials: condensed milk, or crême fraîche. Fortunately, the result is no less sweet or delicious; and this column needed at least one place where the treats are served warm -- not to mention the possibility of having them delivered to your home or office by Wolt.




The crêpes here are all made from scratch and prepared in full view of diners. In addition to the savory crêpes, there are 14 sweet crêpes on the menu; but with eight additional optional fillings (called "toppings"), the permutations are practically limitless.

Sweet crêpes are largely made with classic French wheat batter, but virtually all crêpes can be ordered made with gluten-free, vegan buckwheat batter. There are also plenty of vegan options, sans the dairy products.

The most popular sweet crêpe is reportedly the simple nutella, but a better bet is the Tatin: crême fraîche, apples, salted caramel and sliced almonds. Or the more straightforward dessert crêpe with condensed milk, bittersweet chocolate and banana.

Bretonne Crêperie. Not kosher

Ibn Gvirol St. 52, Tel Aviv

Tel. (03) 635-8221
Cremerie de L'eclair
This fast-growing chain of franchises combines four broad categories of treats -- ice cream/gelato, pastries/cookies, syrups/creams, and candy toppings -- to create fantastic delights. Once again, the concept is build-your-own: pick one of several kinds of baked goods -- eclairs, cinnamon buns, croissants, brioches -- that will be heated and then sliced open to make room for two flavors of gelato, which you choose from approximately 20 different flavors at any given time (out of a total of 100 flavors that rotate weekly).
Once this sandwich is made, choose two of 15-20 syrup/cream flavors that are dispensed from plastic bottles suspended from the ceiling, and complete your treat by selecting one or two toppings -- from an assortment of 12-15 varieties -- that will be sprinkled over your extravaganza.
An interesting variation on these sandwiches is the Twister: two kinds soft-serve ice cream -- 10 original homemade flavors to choose from -- poured into a cylindrical Hungarian kiortosh, then doused in syrups and decorated with cookie shards.
There are ready-made options as well: pre-prepared cookie-and-ice cream sandwiches available in about a dozen permutations, as well as giant frozen eclairs.
Cremerie de L'eclair exists as full-service bakeries, cafés and gelaterias in branches all across the north of Israel, and in one location in Tel Aviv: a storefront "express" operation near Dizengoff Center.
Cremerie de L'eclair
King George St. 53, Tel Aviv
Tel. (050) 262-2622.
Ika Chocolate
"Chocolate melts, so we're making ice cream."

That is the reason award-winning Israeli chocolatière Ika Cohen gives for her limited edition line of ice creams available this summer. Cohen, who has earned her chops by winning prizes at the world's most prestigious competitions held in Paris, has joined with Ristretto, exclusive importers of Weiss chocolate in Israel, to create five premium ice creams and one sorbet, on sale at the Ika studio this month only.




Ika's rich, creamy, distinctive ice cream flavors are: Chocolate Caramel; Ikaragua (made with 70% chocolate); Tonka (chocolate ice cream seasoned with the exotic tonka bean); Caramelized Sesame; Vietnamese Bittersweet Chocolate (infused with basil); and Oreola, featuring white chocolate and hazelnut.

Not surprisingly, these unique ice creams are head and shoulders above anything you can find commercially in this country. More astonishing, however, was to experience the one vegan sorbet in the collection: Orange, Carrot and Ginger -- a refreshing explosion of fruit flavor in the mouth.

The ice cream is sold in roughly pint-sized containers, until the end of August only.

Ika Chocolate. Yad Harutzim St. 11, Tel Aviv. Tel. (03) 688-0440.
Leichcream
Leichcream is the proprietary name for the artisan ice cream made by David Leichman, an American transplanted decades ago to Kibbutz Gezer in central Israel. What distinguishes this entry from the other places on this list is that Leichcream is available only in the framework of tastings or workshops hosted by Leichman at his home on the kibbutz.

Leichman structures the tastings of his all-natural ice creams like a banquet: multiple "courses" served in espresso cups, and capped off with chocolate for "dessert," post-prandial "coffee," and frequently an "after-dinner mint" (a seasonal flavor, since it is made solely from fresh green mint leaves).

The tastings are offered to groups ranging in size from two to a maximum of 30. Naturally, the price per person drops as the number of participants grows; group prices apply beginning at eight people.

Leichcream at Kibbutz Gezer. By appointment only.

E-mail: leichcream@gmail.com

Tel. (050) 522-6129
Max Brenner
While the name Max Brenner is most closely associated with chocolate, the eponymous restaurant chain in Israel has been serving a diverse menu encompassing three meals a day for years. Unlike at most restaurants, however, the dessert menu at Max Brenner is more extensive than the dinner menu -- an entire booklet, in fact, chock full of decadent desserts, starring, in most instances, chocolate and/or ice cream.




Moreover, there are two pages of "choctails," milkshakes and other tempting dessert drinks, as well as a full page of vegan desserts, plus gluten-free options. Another section of the booklet designates some desserts as "intended for sharing" -- although experience shows that virtually all the regular-sized desserts are large enough for two people to share, so those described as being meant for sharing are probably big enough for four.

As if all this were not enough, there are two special desserts being offered this summer: the Nutchella, hazelnut waffles topped with salted caramel ice cream, toffee and caramelized popcorn; and the Giant Fudge Cookie, topped with giant scoops of ice cream and syrups in assorted flavors. Both are highly recommended -- but not for the faint of heart.

Max Brenner. Not kosher

Rothschild Boulevard 45, Tel Aviv

Tel. (03) 560-4570
Stefan Gelato
Stefan Macher is an Austrian oleh who studied the art of making gelato in Italy and is now following his passion in his own neighborhood gelateria in Tel Aviv. Here he churns out fresh batches of gelato daily, offering 14-16 flavors at any given time, with one or two featured "flavors of the day." His ice cream is made entirely from 100% natural ingredients -- "not one even semi-processed," he insists.
Stefan derives inspiration for his gelato flavors from his native country: one flavor, for example, is sachertorte, named after the iconic chocolate cake, and incorporating actual cake batter. Other unexpected flavors are pretzel, studded with the salty snack, and the refreshing green apple with celery.
Still more flavor ideas come from customer requests, and Stefan also makes vegan ice cream (using almond or soy milk) and sorbets. Along with his gelato, Stefan bakes and sells such homemade Austrian specialties as apple strudel and linzer torte. Occasionally, he even has sugar-free strudel.
An additional Stefan favorite is the "cookie monster" -- ice cream sandwiches made with freshly baked cookies and optional toppings around the gelato rims. For a particularly decadent treat, ask for a triple-decker cookie monster.
Stefan Gelato. Tchernikhovski St. 21, Tel Aviv. Tel. (054) 888-7713