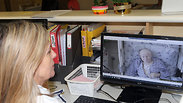 Monitoring the patients
Photo: Yariv Katz
Israel's biggest hospital is testing out a new system that uses cameras, sensors and artificial intelligence in order to monitor patient's condition and alert medical staff in case there is a deterioration.
The system is the result of a collabration between Ichilov Hospital and two Israeli companies, AnyVision and BioBeat, which specialize in artificial intelligence and medical monitoring systems.
Each year, the hospital treats approximately 400,000 patients in its facility, sees some 1.8 million outpatients, performs around 36,000 surgeries and has around 220,000 ER visits.
This new procedure is the first of its kind and is currently going through medical trials. Ten patients have already joined the trial and hundreds more are expected to join it in the near future.
Dr Ahuva Weiss-Meilik, Head of the Data Science and Quality Division at the hospital says that the limited medical staff cannot monitor all patients around the clock and the new system is supposed to provide a solution for the problem.
"The doctors and nurses can't be everywhere," said Weiss-Meilik. "This initiative stems from the understanding that patients who are in the internal wards are not regularly tracked by a vital sign monitor.
"That means there is no continuous monitoring of the patients' condition and the number of times the medical staff comes to check them during the day is limited," she said.
"The system uses an algorithm that could work out whether a patient's condition is going deteriorate. The data is collected by sensors and a camera directed at the patient's bed and is recorded in the patient's medical record.
"The system detects abnormal changes such as a drop in blood pressure or an increase in the patient's pulse and alerts the medical staff if necessary."
Ichilov Director-General Ronni Gamzu praised the new system, calling it '"he future of medicine."
"Some patients are not connected to a monitor because their condition does not require it," said Gamzu, "but sometimes they suddenly 'surprise' us and their condition starts to deteriorate.
"This is the future of medicine. The medical staff needs systems to help them identify complex situations and to navigate through massive amounts of patient data," he said.