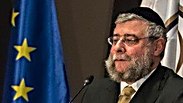 Rabbi Pinchas Goldschmidt
Photo: Eli Itkin
The United Arab Emirates is developing a plan to combat hate crimes and anti-Semitism around Europe and the world in collaboration with the Conference of European Rabbis.

The baseline of the talks took place during a conference in Moscow last week, which gathered religious figures from all around the world.

Among the participants at the event were also Russian Jewish Congress Executive Director Anna Bokshitskaya and advisor to the Chief Mufti of Russia Farid Asadullin.

They learned together how to act in light of the surge in hate crimes and how they could prevent and deal with this phenomenon within their communities.

An additional event is planned to take place in November, where all the religious leaders will sign on a treaty that will require them to work to eradicate violence and anti-Semitism in their communities.

President of the Conference of European Rabbis Pinchas Goldschmidt, who was also present at the event, expressed satisfaction with the plan, calling it a milestone in the battle against anti-Semitism.

"As president of the Conference of European Rabbis I deal extensively with European Jewry, anti-Semitism and xenophobia, which is a very big problem affecting minorities in Europe," said Goldschmidt.

"We held the first conference in Russia because it is a place that has a mutual understanding between Muslims, Christians, Jews and other faiths."

"I am glad that representatives of different organizations and communities got to discuss these issues, which can help us fight xenophobia. This is a turning point in the war against anti-Semitism," he said.