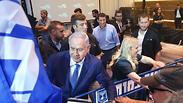 Prime Minister Benjamin Netanyahu
Photo: Yair Sagi
Prime Minister Benjamin Netanyahu on Thursday said there's no other option but "to overthrow the Hamas regime" in the Gaza Strip.

Dozens of rockets have been fired into southern Israel by the militant groups in Gaza, one of which was aimed at the city of Ashdod during Netanyahu's election conference speech, prompting his security personnel to rush him off the stage.

"It looks like there will be no other choice but to embark on a wide scale campaign (in Gaza)," Netanyahu said in an interview with Kan Reshet Bet Radio shortly before his flight to Sochi, where he is expected to meet with Russian President Vladimir Putin for the first time since 2015.

"There will be a military operation but I will only launch it when we are ready and not a minute earlier. I don't base my policy on tweets," said the prime minister.

The statement is similar to the remarks Netanyahu during election campaign in 2009, just weeks after the 2008 Gaza war, known as Operation Cast Lead. "We need action to remove the threat. There is only one way to do that - overthrow the Hamas regime in Gaza," he said in a speech in the city of Ashkelon 10 years ago.

The prime minister also said he wasn't fazed by the rocket alert sirens during his speech in Ashdod despite immediately being taken to safety by his security guards. "I was calm and collected, I spoke quietly to the people in the audience and told them to evacuate," Netanyahu said.

"I was in the Kirya (IDF headquarters base in Tel Aviv) during Operation Protective Edge. Once I was even talking to Obama, I told him 'I'm sorry, I have to stop, we're going down to the bomb shelter'".

Netanyahu also said it would be "absurd" if he remained on stage despite the sirens alerting of an incoming rocket. "I wouldn't stand there like some kind of macho, telling everyone to stand still with me so we can all get hit by a missile," he said.

"I acted in accordance with the Shin Bet protocol, that's what you should do in these situations … anyone who tells you otherwise is being irresponsible," Netanyahu said, referring to Blue and White leader Benny Gantz praise for Gabi Ashkenazi for remaining on stage in Ashkelon where sirens blared at the same time as in Ashdod.

Prior to his departure to Sochi, Netanyahu said the focus of his talks with Putin would be to promote the "joint goal" of removing Iranian forces from neighboring Syria. Netanyahu and Putin have met regularly in recent years to coordinate military activities in Syria.

Netanyahu has for years argued for aggressively countering Iran's nuclear program and its regional belligerency and often takes pride in having a strong working relationship with both Putin and Trump.

However, Netanyahu's clout in Washington appeared to take a hit this week with the firing of one of his like-minded allies in the administration, National Security Adviser John Bolton, and amid reports that Trump was considering meeting with Iranian President Hassan Rouhani and easing sanctions against Iran.

In his radio interview, Netanyahu defended his record.

"Where did this strong sanctions policy against Iran come from if not from the struggle that I led? Indeed, I have had influence on Trump," he said. "You can't tell the president of the United States with whom he should meet, but there is not one person who has influenced more, and continues to influence, the aggressive stance against Iran than me, and everyone knows that."