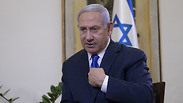 Prime Minister Benjamin Netanyahu
Photo: Ohad Zwigenberg
PM defends Trump-touted defense deal, won't rule out Arab ministers
In an exclusive interview with Ynet, Netanyahu says those who claim the potential U.S.-Israel defense treaty wouldn't be financially viable 'don't know what they're taking about'; adds he'd sit with Arab ministers in his government as long as they're not Ahmad Tibi or Ayman Odeh
Prime Minister Benjamin Netanyahu says he won't rule out Arab ministers being part of his government and dismisses accusations by political rivals that a potential defense treaty with the U.S. is nothing more than an election stunt.
Netanyahu sat down for an exclusive interview with Ynet at the prime minister's official residence in Jerusalem on Saturday night, as politicians began their final push before the Tuesday elections.
The prime minister said Blue and White leader Benny Gantz "doesn't know what he's talking about" when he says that a U.S.-Israel defense treaty would "tie Israel's hands."
President Donald Trump on Saturday said he spoke with Netanyahu about the possibility of a defense treaty between the two countries. The announcement drew criticism from some in the defense establishment, who claimed the cost of such agreement would far outweigh its benefits.
"The implications (of such treaty) would be immense, it would tremendously strengthen Israel's security and deterrence - a defense treaty with the world's biggest power," he said. "I've been working on it for the past eight months and we've agreed to continue discussing it."
Netanyahu also said that a loss by his Likud party in the September 17 vote it would be "a loss for the whole country."
He said such a loss would mean Gantz and Lapid forming "the next government with Ahmad Tibi and Ayman Odeh," referring to the controversial Joint List leaders known for their sometimes inflammatory rhetoric.
"They already said they 'don't rule Arab ministers'. I don't rule out Arab ministers either except for those two (Ayman and Odeh), whom I do rule out. But, Gantz and Lapid don't rule them out and they will be in their government."
Netanyahu appeared to rule out a unity government with Gantz and Lapid, saying that his failure to muster a 61-MK coalition would put the Blue and White leaders in the Prime Minister's Office in a rotation deal.
When asked whether he can promise to the Israeli citizens there will not be a third consecutive election, Netanyahu said it is "entirely up to them."