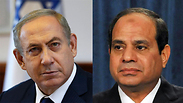 Netanyahu and Sisi
Photo: AP, AFP
Arab world is keeping close eye on Israel's elections
Analysis: The eyes of the Arab nations are fixed on the Jewish state; each country has a candidate they prefer to negotiate and have dealings with - while Benjamin Netanyahu is unwelcome in the Jordanian royal palace, Benny Gantz is looked down upon in Egypt
Arab countries are closely monitoring Israel's second elections of 2019, though this time, there's no actual intervention by any of them.

No one's calling, and no one has issued any invitations. The ruling class of the Arab world shows great interest in our upcoming elections, but no one has invited Prime Minister Benjamin Netanyahu to a last-minute meeting in Jordan, for example.

There were no visits by Labor Party officials to Cairo, no interaction whatsoever with Benny Gantz and his partners in Blue and White, and not even a word with Ayman Odeh or the rest of the leaders of the Arab parties' Joint List, who are known to be a great point of interest to rulers in Arab countries.

That doesn't mean Egypt or Jordan, who both have embassies in Tel Aviv, wouldn't have their diplomats meet with the heads of the parties.

They deliver reports to Cairo and Amman, reports that state Netanyahu has the best chance of winning but emphasize that everything is still up in the air.

The Arab sector keeps trying to get its people, mainly the younger generations, to go out and vote.

The Arab world understands that there are no secrets or formulas to guarantee specific results, and everything could change at the very last minute.

It's important to note that Abdel Fattah el-Sisi, Egypt's current president, hasn't yet met with Benny Gantz face to face.

If one asked Sisi's opinion, he would say that he actually prefers Netanyahu, who lets him bring Egyptian forces into the Sinai desert, talks to him on the phone about Gaza, Sinai and other Arab leaders (far more than any of us realize) and even helped Sisi with U.S. President Donald Trump.

Only last weekend, Trump stated that Sisi was his favorite dictator, announced plans to meet with him, and sent him U.S. aid money.

Even in Trump's statement and intentions, one can see the clear fingerprints of he who sits in the Prime Minister's Office in Jerusalem.

In Jordan, the situation is complicated.

On one hand, the military cooperation between the two countries is as tight - and covert - as always.

On the other hand, Netanyahu's recent announcement of his intention to annex the Jordan Valley was added to the equation.

It's true that Netanyahu's announcement is perceived as nothing more than election talk in Jordan, but Netanyahu isn't welcome in King Abdullah's palace anyway.

In Jordan, they would like to sit with a new prime minister, talk about the importance of close security relations, and discuss the nonexistent trade agreement between Jordan and Israel.

But this time, even Saudi Arabia is keeping a close eye on events.

Netanyahu is convenient for them at the moment, and the two countries share secret intelligence, information and covert relations against their common Iranian enemy.

It's safe to say that Saudi Crown Prince Mohammad bin Salman and Benjamin Netanyahu see eye to eye regarding Iran.

One keeps bringing up the immediate problem in Yemen (referring to the Houthi rebels whom Saudi Arabia claims are funded by Iran), and the other keeps clinging to an Iranian nuclear bomb threat. Both are wary about Trump's potential meeting with Iranian President Hassan Rouhani.

It's also interesting to see Tunisia's delayed interest in Israel's elections.

Tunisia, the Arab world's only democracy, itself went to the polls on Sunday. Of the 26 candidates running, the most prominent is media mogul Nabil Karoui, who right now is sitting in a jail cell, victory in the elections being his only chance to regain his freedom.

After a new Tunisian president is elected and a new Israeli government formed, the two countries will begin relations - behind a veil, as always.

Israel also has silent diplomatic representation in one of the United Arab Emirates princedoms.

Jerusalem has a messenger doing the rounds of the Arab world, someone very well-known in those corridors of power. This messenger has face-to-face talks with the rulers of those countries, and does not operate behind their backs.

And this messenger is always presented with the same two questions: Who's going to head the new government, and will there be changes to the covert relationships between the countries?