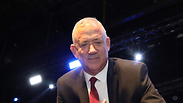 Benny Gantz leader of the Blue and White Party
Photo: AFP
With 91% of votes counted in Israel's Tuesday elections, the Blue and White Party has emerged the largest faction, capturing 32 out of the 120 Knesset seats.

Prime Minister Benjamin Netanyahu's Likud party is the second-largest with 31 seats - down from their 35 seats in the April election.

The Joint List of Arab parties is the third-largest faction in the newly elected Knesset with 13 seats, the best showing for the Arab parties yet.

Yisrael Beytenu, whose pro-unity leader Avigdor Liberman will play a major role in deciding who forms the next government, has 9 seats.

The ultra-Orthodox United Torah Judaism, headed by Deputy Health Minister Yaakov Litzman, also has nine, while its Sephardic counterpart Shas is on 7 seats.

Yamina, a union of factions that hoped to represent voters to the right of Likud as well as religious nationalists, won 8 seats but announced it is splitting back to two separate parties - Jewish Home and New Right.

Labor-Gesher, which was in danger of failing to cross the minimum threshold, received enough votes to get 5 seats, while the Democratic Union has so far received 6 seats.

The extreme-right Otzma Yehudit (Jewish Power) lead by Itamar Ben-Gvir did not pass the threshold.

In a tally of the electorate, Blue and White received 26.1% of the vote and Likud received 25.5%.

The Central Elections Committee said it would begin counting the so-called "double envelopes" at 1 a.m. on Thursday morning.

These ballots include votes from diplomats, security forces, handicapped citizens, hospital patients and staff, and prisoners.

Final results are expected to be announced Thursday.