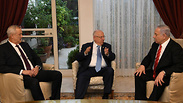 L-R: Gantz, Rivlin and Netanyahu
Photo: GPO
Asked to form next Israeli government, Netanyahu calls for political, societal unity
PM now has 28 days to put together a coalition, with possible two-week extension; decision by Rivlin comes as negotiations by Likud and Blue and White on forming unity government end without success; officials from the two parties trade blame for breakdown of talks
Tasked with forming the next government after last week's national ballot, Prime Minister Benjamin Netanyahu called Wednesday evening for political and societal unity after a divisive election season.
His comments came after President Reuven Rivlin announced that he had decided to nominate Netanyahu, foillowing a breakdown in negotiations on forming a unity government between the prime minister's Likud party and the Blue and White Party headed by Benny Gantz.
"I have decided to give you, sir, the opportunity to assemble a government," Rivlin said to Netanyahu at the nomination ceremony in Jerusalem.
"I accept the mission you have given me," Netanyahu said. "I do not do so in the knowledge that I have a high chance of forming a government, but rather in the knowledge know that my inability to do so is a little smaller than the inability of MK Gantz, given that we are both incapable of forming a government together."
The prime minister also called for a unity government and a speedy conclusion to negotiations to form one.
"The order of the hour is a unity government," he said. "A broad national unity government and fast, I would say."
He said that a unity government was necessary to bring about national reconciliation.
"It's vital at all times, but now especially," Netanyahu said.
"We have been through a tough election campaign on all sides and for all sides," he said. "We need to unite the nation, to heal the rifts because we are facing three huge challenges."
He said the country faced great security challenges, highlighted by Iran, economic challenges and the "great opportunity" of settling its borders when President Donald Trump presents an expected Mideast peace plan.
But in a statement, Blue and White Chairman Benny Gantz appeared to rebuff Netanyahu, repeating that his party would not agree to sit in a government led by someone facing serious criminal charges.
"This issue, along with other fundamentals, is more important to us than any discussion of ministry distribution or (prime ministerial) rotation," he said, after Netanyahu's call for a broad unity government.
"Blue and White is committed to the idea of unity, but for us the right order of things is negotiations between the two major parties - and only between them - in order to reach agreement on the content and substance of the next government," he said.
Rivlin said his decision was not a solution and that both candidates were responsible for resolving the political impasse.
"The Israeli people need toֲ know that a government can be established," he said. "It is true that everyone will have to compromise. But if a government is not formed, it is the citizens of Israel who will pay the greatest price."
The persident's announcement came after Likud and the Blue and White party confirmed that talks on forming a unity government had broken down. Both parties pinned the blame on the other side.
"The negotiations were entirely a pretext by Bibi (Netanyahu)," said a Blue and White senior official said. "The moment he realized we would not let him be prime minister first (in a potential rotation of the premiership), he was already on to the next elections. He is just trying to pin the blame on us."
Netanyahu and Gantz met Wednesday afternoon with the president at Rivlin's official residence in Jerusalem for a second three-way meeting to discuss the possibility of forming a unity government.
The comment by the Blue and White official came shortly after the meeting began.
Soon after, a senior official in Likud said that the breakdown was the fault of Gantz's political partner, MK Yair Lapid, accusing him of letting rivalry with his party leader create a new impasse.
"The sole blame for the stalled unity talks rests with Yair Lapid, who is willing to drag the whole country into another election solely to ensure Gantz will not be prime minister," he said.
Lapid hit back at the allegation, writing on Twitter: "Benny Gantz will be prime minister and Bibi will go to take care of his criminal cases."
He was referring to the prime minister's three criminal investigations for alleged bribery, breach of trust and fraud.
"These transparent attempts by the Likud to create conflict are not impressing any of us," Lapid wrote.
Neither Netanyahu nor Gantz has the support of enough of the 120 Knesset members to claim a potential 61-MK government for their right-wing and center-left blocs, respectively.
Likud is now leading a bloc of 55 Knesset members, including the far-right and ultra-Orthodox parties. Blue and White has 54 MKs in its bloc, despite having one more seat in the Knesset than the LIkud's 32.
Anxious to avoid a third round of elections within a year, Rivlin had been pressing for the two parties to come together in government.
Netanyahu has 28 days to build a coalition, If he is unsuccessful, he may ask for an additional two weeks, which it is the president's prerogative to grant.
Failure to ultimately form a government means the mandate will then likely be given to Gantz as the leader of the second largest faction.
Rivlin's decision may have been motivated by a desire to pressure both sides to increase their efforts at finding common ground.
Itamar Eichner, Yishai Porat and Reuters contributed to this report