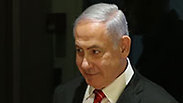 Prime Minister Benjamin Netanyahu
Photo: Amit Shaabi
Prime Minister Benjamin Netanyahu called on Thursday for his pre-trial hearing on corruption allegations to be broadcast live, saying that "the time has come for the public to hear everything, including my side".

Following a deadlocked September 17 election, Netanyahu is fighting for a fifth term in office that might confer legal immunity in three long-running cases that he has cast as a baseless and politically motivated witch-hunt.

Attorney-General Avichai Mandelblit has said he intends to file fraud and breach of trust charges against Netanyahu pending a hearing - an opportunity for a VIP suspect to argue that a trial is not in the national interest.

"After a three-year flood of tendentious, partial media leaks, the time has come for the public to hear everything, including my side," Netanyahu said in a social media video.

"I am therefore asking the attorney-general to open up the hearing for live broadcast ... You know that transparency delivers the truth."

Mandelblit's office did not immediately respond.

The prime minister is being investigated in three separate cases: Case 1000 concerns illicit gifts Netanyahu allegedly received from business moguls Arnon Milchan and James Packer.

Case 2000 concerns alleged discussions Netanyahu and Yedioth Ahronoth publisher Arnon Mozes had over a quid pro quo of positive media for the prime minister in return for Netanyahu weakening Yedioth's main rival newspaper Israel Hayom.

Case 4000 involves an alleged plan to ease regulations for telecommunications mogul and Bezeq chief Shaul Elovitch in return for positive coverage on his Walla! news website.

He has denied any wrongdoing.