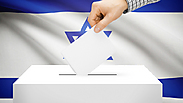 Illustration of election vote
Photo: shutterstock
A third Knesset election since April could drive the bill for the consecutive national ballots as high as NIS 12 billion in 18 months, according to the Manufacturers Association of Israel.

The organization, which represents all public and private industries in the country, is factoring in the cost of one election for local government and two national ballots, with a possible third in sight.

This calculation factors in the expense of Election Days that require businesses to either close for the day (Election Day is a national holiday to facilitate voting) or pay their employees 200% of their normal salary for the day, as well as party campaign budgets funded by the state and the cost of operating the Central Elections Committee, which oversees the electoral process.

Furthermore, with a caretaker government in place since December 2018, Israel's economic policies have been on hold while the debt increased, and costs continued.

On December 26, 2018, Prime Minister Benjamin Netanyahu led the dissolution of Knesset in what critics said was an effort to delay prosecution against him in three corruption cases. Elections were called for April 9, 2019.

After failing to form a right-wing coalition in their wake, Netanyahu's Likud party quickly voted to dissolve that Knesset as well and set September 17 as the next election date.

Costs incurred by the ongoing political maneuvering and ultimate stalemate that exist following the latest election results may be compounded by yet another election that could be called in the months ahead.

Finance Ministry officials, while expressing their concern at the costs, saw the silver lining in an extended election season because they say a caretaker government collects taxes but reduces spending.

Until a new government is sworn in, the caretaker government operates within the 2019 budget.

However, the international credit rating firm Moody's warned that failure to form a coalition able to take on Israel's economic challenges may have an adverse effect on the country's ranking.

Moody's analysts say it will depend on the government's willingness to take the steps needed to deal with a challenging deficit and pass the 2020 budget.

In order to curtail spending, Moody's analysts recommend restriction of spending to 1.5% of the 2019 budget only.