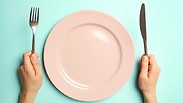 Who should and shouldn't fast on Yom Kippur
Photo: Shutterstock
Yom Kippur or Day of Atonement, the most sacred day on the Jewish calendar, sees hundreds of people admitted into the emergency room and many others who "suffer" through fasting.

Whether fasting is healthy for them or not, many believers cling to the custom even despite medical recommendations, until their condition worsens.

So, we take a look at who shouldn't fast under any circumstance, how to take medication correctly, which medical services will be avialable in Israel during the holiday, what women going through fertility treatments should do and whether you should take birth control pills as usual.
Can chronic disease patients fast?
Prolonged fasting like on Yom Kippur might put patients with chronic diseases could cause a slew of medical problems, such as high blood pressure, heart failure, diabetes, ischemic heart disease, renal and liver failure and malignant diseases.
Patients suffering from these conditions are not recommended to fast on Yom Kippur at all and since fasting could cause a wide range of life threatening conditions such as sharp drops in blood pressure, fluctuations in the body's salt-water levels, acute drops in blood-sugar levels, cardiac arrhythmias and even strokes.
Are patients taking different drugs allowed to fast?
Patients taking fixed medication due to chronic diseases, especially when it comes to different medication, are not recommended to stop the permanent treatment without consulting a physician first.
In any case, if it is decided to pause the treatment for the 25-hour fast, consult your physician to set your medication times and mealtimes before and after the fast accordingly.
Can antibiotic treatment be halted during the holiday?
The treatment shouldn't be stopped under no circumstance if given for life threatening conditions.
In milder conditions such as strep throat and urinary tract infection, consult a doctor and ask them for their approval to take the medicine at the last meal before Yom Kippur and then again at the end of Yom Kippur.
What is recommended for women taking birth control pills?
Women taking birth control pills face no problem at all as they can take the pill at the last meal before fasting and then again at the end of the fast the next day.
Can psychiatric patients stop taking their medication during the fast?
Psychiatric patients not advised not to stop their treatment due to real life-threatening concerns.
If you still wish to halt a psychiatric treatment, consult your attending physician first.
Are there patients who can only partially fast?
For patients with Inflammatory bowel diseases, it is advisable to keep yourself hydrated and avoid fully fasting for the entirety of Yom Kippur.
Additionally, it is important to note that some medicines require food or drink, therefore, it is advisable not to decide this on your own, but to consult your doctor about each specific pill - whether you can swallow it with or without liquids.
What about diabetics?
In the past, people with diabetes were strictly prohibited from fasting, but since there are two types of diabetes and treatments are quite diverse, each patient should consult their attending physician to pick the right treatment and determine if fasting is permitted and under which circumstances.
What can someone who suffers from migraines and headaches do during the fast?
Fasting could indeed cause headaches, mainly due to dehydration causing blood vessels to expand, very similarly to a migraine.
Apart from taking medicines such as Paracetamol, Ibuprofen and Dipyrone, you can consult your doctor about using Arcoxia.
Arcoxia, used to treat arthritis, was also found to be helpful in preventing headaches during fasting.
It should be noted that some medication must be taken on a full stomach in order to reduce damage to the stomach lining.
Additionally, some medications have alternatives in the form of rectal candles, which solve the eating issue.
Can pregnant women fast?
Women in high-risk pregnancies are prohibited from fasting. Healthy women can usually fast during pregnancy, if they do not suffer from anemia, weakness, dehydration and only after consulting a gynecologist.
In any case a pregnant woman feels dizzy or nauseous, she should drink a quarter-cup of a sweetened drink every few minutes until the weakness goes away.
In general, pregnant women are advised not to go to the synagogue but to stay at home in an air-conditioned room.
Can breastfeeding women fast?
Fastng is not advised for women breastfeeding full time without any baby formulas.
Breastfeeding women should alternately drink water throughout Yom Kippur to prevent a decrease in breast milk production.
If the woman combines breastfeeding with formulas, there is no prohibition on fasting, however, it is advisable to stay in an air-conditioned place and avoid unnecessary efforts.
In any case, pregnant women must consult the attending physician about fasting.
What should women in fertility treatments receiving daily injections do?
Women going through fertility treatments, requiring a series of hormone injections and must receive them at predetermined dates and times, will be able to call emergency services - if necessary - in order to set up an appointment at the nearest first-aid station.
When arriving at the station for an injection, bring the medication to be injected as well as your attending physician's referral with the date and time of injection, dosage, location and manner of injection (intramuscular or subcutaneous).
Paramedics will inject the medication only to patients who have already received at least one injection of the same drug before.
How to identify dehydration?
Fasting might dehydrate the body – this condition increases the risk of damaging various body systems and can lead to the formation of kidney stones.
Dehydration is a medical emergency that is expressed by weakness, sleepiness, headaches, blurred vision, failure to urinate for more than10 hours, nausea, loss of consciousness and convulsions.
Infants and small children, who don't fast anyway, are at a higher risk, alongside pregnant women and seniors.
To avoid dehydration, those fasting must stay in shady and air-conditioned places as much as possible.
Call emergency services in any condition suspected as dehydration.
What should I do if I need a doctor on Yom Kippur?
In case of emergency, call emergency services. In any other case, you can turn to the main urgent care centers, which keep operating on a limited scale that day.
Chronic patients need to make sure that they have enough medication for the day of fasting.
It is advisable to make sure that there are also basic non-prescription drugs available, such as antipyretics and analgesics.
If necessary, there are emergency pharmacies available, which can be found on your municipality's website or hotline.