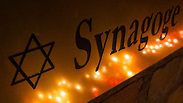 Candles outside Halle synagogue after the attack
Photo: AP
Halle Jewish leader: We watched as gunman tried to blast his way in
60 worshippers in the synagogue on Yom Kippur sat trapped for 10 long minutes until security forces arrived, as security cameras showed the attacker trying to shoot his way through reinforced doors; 'it was a miracle they held,' says Max Privorotzki
Max Privorotzki, head of the Jewish community in the German city of Halle, was in the middle of Yom Kippur prayers along with 60 others when neo-Nazi Stephan Balliet attempted to break into the synagogue and massacre them all.
It took 10 long minutes from the moment Privorotzki called the police until they arrived at the besieged synagogue, which unlike other Jewish establishments throughout Europe, was unguarded and without any significant security measures.
Those present in the synagogue watched in horror through the security cameras as Balliet shot in vain at the synagogue's reinforced doors, and then turned to open fire at innocent bystanders in frustration, killing two people.
Video of Balliet during the attack
The small Jewish community of Halle isn't used to being in the spotlight or the victim of anti-Semite acts, and is having a hard time recovering from the traumatic event, yet its members do find solace in the embrace of the local authorities and Israel.
"It was horrible," Privorotzki told Ynet. "We were in the middle of reading from the Torah when we heard someone firing a weapon out in the street. It was so sudden, we didn't have any security from the police. It's a wonder our doors to the synagogue and cemetery were strong enough to hold off the assault. It was a miracle."
According to Privorotzki, the Jewish community has never dealt with an anti-Semitic event of this magnitude before.
"There have been calls for Israel's destruction and such, but never anything remotely close to the situation we were in on (Yom KIppur).
"Today, and maybe tomorrow, everyone stands with us," Privorotzki says, "but in two weeks time, everybody will forget what happened, and I'm not sure what our lives will look like after such an event."
Privorotzki said, however, that despite the deeply traumatic event, the Halle Jewish community has managed to stay somewhat strong thanks to the support from Israel.
"The solidarity we've received from Israel is very important to me and my community." Privorotzki said.