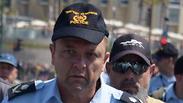 Acting Israel Police Commissioner Motti Cohen
Photo: Israel Police
Four people were arrested last week at a carwash in Herzliya on suspicion of fraudulently taking 15 million euros from several European companies.

Over the past few months, companies in Norway and Italy have issued complaints about frauds originating in Israel.

An investigation by Tel Aviv District Police fraud department found that the suspects, who hold French and Italian citizenships, were pretending to be senior executives of large companies seeking to make urgent money transfers.

It is suspected that through this method, the suspects managed to defraud around 15 million euros.

The four were arrested in a carwash and police confiscated the suspects' luxury cars worth millions of shekels.

Attorney Yaron London, who represents some of the suspects, has denied all the allegations during the four suspects' remand extension hearing.

"The investigation is only at its beginning and my clients have nothing to do with the allegations made," said London.

"I believe that once they present their version of the story they will all be released."

The court extended the suspects' remand until Tuesday.