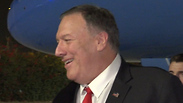 Secretary of State Mike Pompeo
Photo: Ziv Sokolov
Pompeo: Trump 'fully prepared' to use military against Turkey if necessary
The secretary of state said the president wouldn't hesitate to use force against its NATO ally, which would destroy the 70-year-old intergovernmental alliance, if the Turks continue the offensive against the Kurds in Syria despite the ceasefire
Secretary of State Mike Pompeo said on Monday that the United States is "fully prepared" to use its military against NATO ally Turkey if the crisis on Syria's northern border continues to deepen.

In an interview with CNBC on Monday, the high-ranking Trump administration official stressed that the U.S. prefers "peace to war... but in the event that kinetic action or military action is needed, you should know that President Trump is fully prepared to undertake that action."

Pompeo's remarks came just weeks after the White House unexpectedly made a decision to withdraw all U.S. troops from Syria, opening the door for Turkey to launch a cross-border offensive against the Kurdish YPG militia, considered by Ankara a terrorist organization due to its ties to Kurdish separatists in Turkey.

An attack by the U.S. against Turkey would shatter the 70-year-old NATO alliance, which centers on the principle that an attack on one member is an attack on all

Meanwhile, a deadline for the withdrawal of Kurdish fighters from areas in northeastern Syria expires on Tuesday evening, a Turkish military source said, as part of a 120-hour suspension agreed between Ankara and Washington.

Ankara has warned that violence will resume if Kurdish forces do not evacuate from the area, where it plans to set up a 75-mile "safe zone" between Tal Abyad and Ras al-Ain.