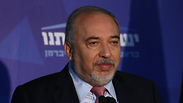 Avigdor Liberman
Photo: Ohad Zwigenberg
Yisrael Beytenu leader Avigdor Liberman said Tuesday that although Benjamin Netanyahu has accused Blue and White leader Benny Gantz of working against a unity government, it was actually the prime minister himself who had been trying to sabotage the talks.

Neither Gantz nor Netanyahu were able to garner the support of enough MKs to form a government after the Sept. 17 elections. On Monday evening Netanyahu announced that he was conceding defeat in his efforts to do so and returning the mandate to President Reuven Rivlin, who was expected to invite Gantz to launch his own attempt.

"This may be the best example for the saying 'liar liar pants on fire'," said Liberman. "It's hubris, disrespect and condescension."

Liberman, who was once Netanyahu's chief of staff, also accused the prime minister of working to advance his own personal agenda, which clashed with what was good for the country.

"Netanyahu works solely out of personal motivation, he doesn't care about Israel," Liberman said.

"It is in Israel's interests to avoid another round of elections and form a broad liberal unity government. Netanyahu is driven solely by a need to advance his own personal agenda and drags the entire Likud in his wake," he said.

"He doesn't want a government, he wants elections for his own personal motives. He can't accuse us of not negotiating, we (Yisrael Beytenu) appealed to him both in writing and verbally."

The former Netanyahu ally also declined to say whether he would join a minority government formed by Gantz, which would also rely on external support from the predominantly Arab parties.

Without Liberman's support and his party's 8 Knesset seats, Gantz can muster just 57 MKs, including the 13 Joint List lawmakers who would provide support from outside any coalition.

"We're being constantly asked about a minority government, and we will not address this issue, because first and foremost this serves Netanyahu," Liberman said. "If we reach an understanding about basic (government) guidelines, then we'll talk about it."

According to Liberman, he "could have been a part of Netanyahu's government several times. All I care about is the fundamentals - I care about the issues of minimum wage, the enlistment of yeshiva youths, public transportation on Shabbat and the cancelation of the supermarket law (preventing any shops from opening on Shabbat)."

Liberman, who has long complained about what he says is disproportionate power of the ultra-Orthodox parties, said Netanyahu has formed "a messianic ultra-Orthodox bloc whose purpose is the religious coercion of all of Israel."

He called the prime minister "a hostage of the ultra-Orthodox," who had reversed previous positions on religious freedom for his own political gain.

"Netanyahu voted with me on the first reading of the Yeshiva enlistment law, so why did he retreat on the second and third reading, because he's a hostage of the ultra-Orthodox," he said.

"Netanyahu himself approved the Western Wall outline (for egalitarian prayer) in a government meeting, he then froze it, again because he's a hostage of the ultra-Orthodox."