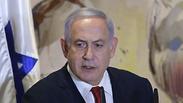 Prime Minister Benjamin Netanyahu
Photo: Alex Kolomoisky
Netanyahu turned 70 on October 21. This is a good opportunity to wish our prime minister a long life, happiness and prosperity. He deserves our wishes every year and certainly on this occasion.

He is blessed with much of what people his age would wish for themselves: good health, sustenance, a supportive family, homes to live in, hundreds of friends and thousands of followers.


But there are a few things casting a shadow on Netanyahu's celebration.

The mandate he was given to form the government has run out and will now be given to his rival, Blue and White leader Benny Gantz.

Attorney General Avichai Mandelblit will soon be deciding the fate of three corruption cases pending against the prime minister.

Though the wheels of justice grind slowly, members of the prosecution who have by now returned from their holidays understand that until the attorney general announces his decision, the government will remain stalled and ineffective.

If Mandelblit and his prosecutors were convinced by any of the arguments presented by Netanyahu's attorneys, they should inform the public as soon as possible.

The cases would then be closed, and the Blue and White party would be free to join forces with Netanyahu, having promised their voters that they would not enter a government led by a man under criminal suspicion.

Some critics may ask Mandelblit how he failed over the past three years to see what Netanyahu's defense team had, but those voices would be drowned by the outpouring of joy over the prime minister's innocence.

But if Mandelblit and his prosecutors were not convinced by anything Netanyahu's defense team came up with and indictments are indeed to be handed down, it is imperative they announce that decision quickly as well.

A new round of elections may not change the makeup of the Knesset and only waste time and money.

Likud would be wise to agree to a rotation of the premiership with Blue and White Leader Benny Gantz assuming the top job first as Netanyahu battles charges in the courts.

Should he be found innocent, he can then return to the prime minister's office for the second half of the unity government's term.

If found guilty, Likud can decide on his replacement.

The key to a new government, therefore, is not in the hand of any of the politicians; not Gantz, not any of Netanyahu's traditional partners who may decide to defect from his parliamentary bloc, not even kingmaker Avigdor Liberman.

The key is in the hands of Attorney General Avichai Mandelblit alone.