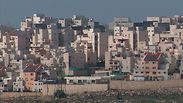 The city of Elad
Photo: Wikimedia Commons
Rabbi stops Electric Corp. from fixing power cut on Jewish holiday
'We were held hostage,' says local resident after Elad religious municipality left without lights, air conditioning and hot food for 11 hours as rabbi prevents emergency crew dispatched to mend outage from entering the city during Simchat Torah
Residents of the ultra-Orthodox city of Elad were forced to spend Simchat Torah holiday without hot food, lighting or air conditioning on Monday, after local rabbi Shlomo Zalman Grossman refused to allow Israel Electric Corporation workers into the city to repair a broken power line.

The workers were kept out of the central Israel community – the sole religious municipality in the country - until after the holiday ended at sundown.

The power line cut out at around 9 a.m., leaving many residents without electricity for close to 11 hours.

But when they angrily called the Electric Corp. to complain after the holiday was over, they were informed that the company had indeed sent workers to repair the line, and they had been prevented from entering the city by the rabbi.
'We were held hostage'
One Elad resident affected by the power outage told Ynet that Rabbi Grossman had overstepped the boundaries of his authority.
"I am still in shock at the nerve. When did the emergency crews of a government-run electric company start working for a city rabbi?" she said.
"The rabbi has no problem holding an entire city hostage. His people could not care less because they have a generator" for Shabbat and the holidays," she said.
The Electric Corp. confirmed that the rabbi's directive prevented the fault being repaired.
"Upon receipt of the notice of an interruption in the (power) supply, a crew went to the site," it said.
"Due to Rabbi Grossman's instructions, the crew was not allowed to enter the municipality to carry out repairs. At the close of the holiday, the crew was sent to the city to find and fix the line."