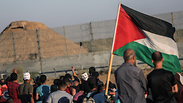 Gaza protesters at the Israeli border
Photos: EPA
Hamas arrests dozens of activists in bid to deter Gaza protests
With eye on anti-government demonstrations in Lebanon and as calls for rally spread on social media, police units in Strip have focused round-ups on people affiliated with left-wing and centrist political factions, including PFLP and Fatah
Over the last few days, Hamas police units have arrested dozens of Palestinian activists in the Gaza Strip to prevent protest attempts in the wake of the ongoing anti-government demonstrations in Lebanon.

The activists arrested are affiliated with left and center political factions in Gaza, among them the Popular Front for the Liberation of Palestine, the Democratic Front for the Liberation of Palestine and Fatah.

Calls for a protest on Thursday evening were voiced for the last few days on social media, promoted with the tagline "enough, we are tired!"

The focus of the protest organizers – whose identity is still unknown – was to promote a similar civil protest to the one that occurred in Gaza in March. That protest, focusing on the social and economic strife endured by Gazan citizens, was brutally put down by Hamas.

Palestinian sources told Ynet that a feeling of fear hangs over the Gaza Strip due to the arrests, and it was very clear that people are afraid to take to the streets.

These sources also pointed out that the organizers made sure to distance themselves from the Hamas regime and tried to give the protest a civil and apolitical tone.

Nonetheless, it is appeared that some attempts to promote the protest on social media were done by sources belonging to the Palestinian Authority in Ramallah, possibly intelligence officials.

This week, the Lebanese government approved a series of reforms intended to calm the rage in the streets.

"This is an economic revolution", said Lebanese Prime Minister Saad Hariri, adding that no government in the history of Lebanon has ever implemented such wide scale reforms.

In the last few months, there has been a relative quiet along the Gaza-Israel border, mainly due to actions taken by Israel to ease conditions for Gazan civilians.

Meanwhile, IDF Chief of Staff Aviv Kochavi warned Thursday that Israel's "northern and southern borders are in a tense and delicate state, even though are enemies are not interested in war."