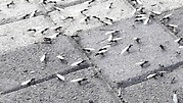 Winged ants and termites
Photo: Ettay Nevo, Davidson Institute
Rainy weather triggers thousands of flying ants to swarm Israeli streets
Israeli scientists say the phenomenon is in fact a mating ritual called 'nuptial flight' that sees many 'winged sexuals' who grow wings within the colony and come out at a certain time of the season - when the environmental conditions are corrects - to procreate with the queen ant
In the first sunny day after the first rainy weekend of the season, thousands of winged insects were observed all over Israel, swarming the streets in broad daylight. The insects are in fact ants and termites who grow wings within the colony and come out at certain times of the year, looking to mate and establish new colonies.
According to the Davidson Institute of Science Education, this phenomenon is known as the "nuptial flight," the mating flight of some insects, most notably social bees and ants. The creatures, known as "winged sexuals," emerge when temperature and humidity are acceptable for them - which often correlates with the season's first rain - gather at a specific area and start their nuptial flight.
Flying insects in the streets of Israel (צילום: איתי נבו, מכון דוידסון לחינוך מדעי)
According to Igor Armiach Steinpress of the Davidson Institute, a few hours after the first rain, the royal ants - the direct offspring of the queen ant - and termites sprout wings and congregate by their nests before they take flight.
This gives the areas surrounding the nests a silver like hue, and effectively turns the surface into an airstrip for thousands of individual breeding insects.
Once the queen ant takes flight, it will look for an elevated surface with a large cluster of ants from different nests. There, she will mate with a few different males, in an effort to establish her very own colony.
According to Steinpress, the ants aren't competent fliers, and will actually fly only a few times, if not once, throughout their whole life span, and will occasionally land on humans in their search for potential mating partners.
After the mating, the male has effectively completed his biological mission and is left to die, while the female molts her wings, and flies away, looking for a quiet place to build her new colony where she will reign as the queen, never leaving her nest and spending the rest of her days laying eggs.
The royal ants (both male and female) are those that will eventually leave the colony to partake in future nuptial flights with the the progeny of the same males the queen ant bred with during her own flight.
"The nuptial flight is a beautiful phenomenon that is in no way dangerous to humans and passes after a few days," said the Ministry of Environmental Protection in a statement. "The flight allows insects to naturally reproduce and to ensure the continuation of their species for years to come."
The ministry added, however, that termites - who tend to establish colonies on properties occupied by humans - might "cause severe structural damage stemming from their affinity to eat wood."