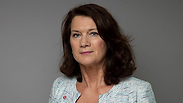 New Swedish foreign minister Ann Linde
Newly appointed Swedish foreign minister Ann Linde told the Swedish parliament she does not consider the Boycott Divest Sanctions (BDS) movement Antisemitic.

Linde said she does not support boycotts but considers the BDS a legitimate, political, non-violent tool, in the struggle for human rights, freedom of expression and an end to occupation.

The new minister had visited Israel a number of times in the past and is in favor of expanding trade agreements between Israel and Sweden.

"The Swedish government has made it very clear that it supports Israel's security needs and that Israel's right to exist is not debatable in any way". Linde said in a television interview Monday, "The fact that Israel's neighbors challenge its to exist makes Israel more vulnerable, but the Middle East must see the promotion of democratic values and human rights" she said.

"I hope to visit Israel in an official capacity. I am fond of both Israel and the Palestinian territories." She added, " I was in Sderot and saw the damage done by Hamas rockets that landed on a kindergarten, so I understand the threat and the fear."

"This does not contradict the view that the occupation which is in violation of UN resolutions, must end and the Palestinians must be given their rights to live in recognized borders." The minister added.

Officials in Jerusalem condemned Linde's comments and claimed she is playing into the hands of Anti-Semites.

Linde replaced Margot Wallström as foreign minister earlier this month.

Israel had boycotted Wallstrom after she made what Jerusalem considered anti-Israeli statements, and following her call to investigate Israeli killings of Palestinians.

Under her leadership, the Swedish government recognized Palestine as an independent state.