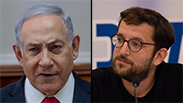 Netanyahu and Urich
Photos: Yoav Dudkevitch
Israeli police is reported to be investigating whether two senior aides to Prime Minister Benjamin Netanyahu harassed Shlomo Filber, a state witness in the "4000" corruption case against the PM.

Israeli Channel 13 TV reported on Monday that two of the aides, Ofer Golan and Jonathan Urich, were both recently questioned and had their phones confiscated.

According to the report, Golan hired a van in August to park outside Filber's home, blaring insults at him, and asking: "what did they do to you to make you lie about the prime minister? …The left is using you to topple the Likud".

Shlomo Filber, a former Netanyahu aide, is a key witness in "case 4000" , in which Netanyahu is suspected of giving political favors to telecom magnate Shaul Elovitch, in exchange for flattering coverage on his news site Walla!.

Ofer Golan has been the Likud election campaign manger for the last three elections and acted as the Netanyahu family's spokesman as well as the Likud party.

Johnathon Urich has been the new-media advisor for the PM since 2015.

Ulrich accused the police of tapping personal information from his phone without his consent and without a court order and sharing information with other police investigations in a closed Telegram group named "completing case 4000".

The police responded to the accusations, saying that: "Urich agreed to let us look at his phone. He was questioned about it and agreed to do so on his own volition".

Police further stated that the phones will not be investigated further without judicial consent, and special approvals will be requested with specific contact information present on those phones.

Netanyahu responded to the investigations of his aides, attacking police investigators saying: "the confiscation of my close aides' phones is a blow to Israeli democracy and to the right to privacy that every citizen holds. We are not living in a dark regime and such action should not be allowed."

The prime minister added that "the focus of the investigation is meant to threaten those close to me and deny me the ability to react to the nonstop leaking of information coming from my investigations. Why aren't the police looking into that?"

Two more individuals involved with Netanyahu's close circle were questioned: the Likud's creative director Srulik Einhorn and Likud CEO aide Ofer Hamo.

A joint massage by the police department and the ministry of justice was released, saying: "The law enforcement agencies see with severity any attempt to harass witnesses, make them change their mind or threaten them. It is far more severe when a state witness is involved."

The statement went on to say "In a state run by the rule of law, these sorts of actions will not be acceptable and will not be permitted in anyway. These actions could be a detriment to the continuation of the investigations and the goal of reaching final justice."

The police further noted that Filber's investigation is ongoing.