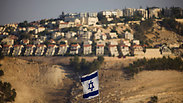 Ma'ale Adumim, Israeli city in the West bank
Photo: AP
Israel braces for European decision to mark goods from settlements
The European court's ruling might provide practical tools to attack Israel and Israeli exports to Europe; Israeli embassies will direct efforts towards local ministries of economy and agriculture to convince them not to apply the ruling
The European Court of Justice (ECJ) in Luxembourg is expected to rule on November 12 on whether to mark exports of goods, produced in Israeli settlements in the West Bank and the Golan Heights, to European Union countries.

This decision will be made following a petition filed by Psagot Winery to the Administrative Court of France against the 2015 EU directive to mark products manufactured in the West Bank, the Golan Heights and East Jerusalem with a special label.

The Israeli foreign ministry fears that an ECJ precedent, which would require labeling products from the settlements, would be forced upon all 28 EU countries and embolden the BDS movement (Boycott, Divestment and Sanctions) and other de-legitimization organizations against Israel to fight Israeli exports.

In addition, Israel is worried that the BDS movement will take advantage of the precedent and will call on countries outside Europe to mark the produce of the settlements.

This decision is a follow-up to the European Union's guidelines approved in November 2015 for labeling products from the settlements, a move that has been criticized by Israel as "discriminatory" and damaging to peace efforts with the Palestinians.

Thanks to efforts made by the Foreign Ministry and Israeli representatives around Europe, the implementation of the new guidelines was successfully blocked in most European countries.

France became one of the first countries to adopt these guidelines, and in 2016 the French Ministry of Economy even issued its own guidelines requiring the marking of products from the settlements.

The Administrative Court of France later annulled the decision until further notice after Psagot Winery, among others, filed a petition against marking its products, claiming that the directive contravenes the French constitution.

Since it is a European regulation, the French court then forwarded the issue to the European Court of Justice in Luxemburg - a supreme court whose decisions cannot be appealed.

The ruling might effectively provide practical tools to attack Israel and Israeli exports to Europe.

Its public impact will be great, as stated, not only because of the implications for export but also in the delegitimization efforts against the State of Israel.

The ruling will allow BDS activists to appeal to their local courts across the EU, which will be obliged to implement it without holding hearings on the matter.

The Israeli Foreign Ministry is preparing for the decision. In the event of an unfavorable ruling for Israel, most of the activities of the Israeli embassies will be directed at the local ministries of economy and agriculture in order to to convince them not to apply the ruling or interpret it in a lightly.