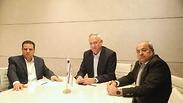 Gantz meets with Joint List leaders
Photo: Ofek Avshalom
Blue and White leader Benny Gantz met with the leaders of the Arab-dominated Joint List on Thursday as part of his efforts to form a coalition government.

President Reuven Rivlin tasked Gantz with trying to form a coalition government last week, two days after Prime Minister Benjamin Netanyahu said he was unable to do so when his allotted 28 days came to an end.

"The meeting took place in a good atmosphere and various issues - which are important to Arab society - were discussed, with an emphasis on civil issues," said the Blue and White party in a statement. "Gantz emphasized the treatment of these issues is not conditioned on anything."

The Joint List leader MK Ayman Odeh at the end of the meeting said he expects further discussions to take place. "We promised our public to promote their values and will do everything possible to make them a reality."

Odeh later took to Twitter to add the issues discussed did not revolve solely around the Arab sector but took into consideration the interests of "all Israeli citizens."

"We remain true to the values of peace and equality and as always, welcome Likud's hysteria."

Joint List MK Ahmad Tibi also hailed the meeting, saying it's the first time a candidate for prime minister held talks with Arab parties since 1999, when Ehud Barak's Labor won the national vote.

"We held a discussion about both civil and political issues … MK Odeh and I are pleased with the understandings reached on the civil matters," Tibi said.

"Certainly, there is a need for further talks to be conducted in a thorough manner, unlike meetings we've had with other leaders."