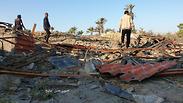 Damage from IDF strike on the Strip
Israeli military carried out a wave of pre-dawn air strikes in Gaza in response to a barrage of rockets fired by Palestinian militants at Israeli communities bordering the Hamas-controlled enclave, IDF officials said. Gaza health officials said the strikes left one Palestinian dead and three others wounded.

The officials in the Strip said the 27-year-old was killed during an air strike on a militant training camp and that he had died in hospital.

Although it was not immediately clear whether he belonged to Hamas' military wing, the terror group issued a statement, threatening to respond to "Israel's crimes and aggression against our people and their courageous resistance."

"It is a dangerous escalation that violates the rights of innocent civilians," said the terror group. "Israel will bear the consequences of its actions."




The Israeli military said that Palestinians fired 10 rockets from Gaza into Israel late on Friday, eight of which were intercepted. Police said a home in the southern city of Sderot sustained a direct hit, causing damage but not casualties.

In response, the military said, a series of Israeli strikes targeted sites belonging to Hamas, the Islamist militant group which rules Gaza.

None of the armed groups in Gaza claimed responsibility for firing the rockets. The Israeli military said Hamas was ultimately responsible for the attack.

Israel and Hamas have fought three wars over the past decade and cross-border tensions are high and such flare-ups are not rare.