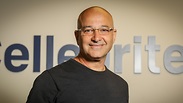 Yossi Carmil
Photos; Shlomi Yosef
'I sleep well at night because I know for whom I work and whom I serve'
Even though it helped solve 2.5 million criminal cases this year, Israeli Tech Company Cellebrite is still mostly known as the 'iPhone cracker'. Co-CEO Yossi Carmil talks with YNET about extracting information from digital watches and drones, AI in service of the police, and about digital policing. And yes, the computer will soon be able to predict crimes
The technology developed by Israeli Cellebrite has helped solve 2.5 million police investigations around the world over the past year, but the company's public reputation still revolves around hacking criminals' smartphones.
After years of shying away from the limelight, Cellebrite now unveils how it helps various law enforcement agencies with a lineup of technologies focused on managing investigational information and tracking evidence with artificial intelligence (AI).
Cellebrite's Co-CEO Yossi Carmil, talked with YNET, revealing that the company has developed technology able to alert police about potential crimes yet to have happened.
Cellebrite first made the headlines following the San Bernardino massacre, where 14 people were murdered.
The FBI demanded Apple to unlock the murderer's iPhone, but Apple refused, arguing it cannot breach it's commitment to its customers' privacy.
Cellebrite walked onto the scene, easily bypassing the iPhone lock mechanism.
This event, which was never refuted or confirmed, brought Cellebrite numerous new clients, including police forces and other law enforcement agencies.
The company is estimated to control 50% of the global market for these solutions.
The debate on whether smartphone manufacturers should be required to unlock smartphones under a court order has been going on for many years in the USA.
Until the debate is concluded, Cellebrite has a lot of work on its hands.
A few weeks ago, Apple distributed iOS 13 its best and most secure operating system ever.
Carmil says Cellebrite would know how to bypass it too.
"The first successful hack of iOS13 will take place here. We have specialized iOS and Android capabilities that no one else has anywhere in the world. We use these capabilities to help keep the public safe."
Cellebrite and Apple remained on friendly terms despite the hack.
In fact, until a year ago, Apple was a Cellebrite customer and has used its devices for information backups and transfer between consumers' iPhones in thousands of Apple Stores.
Carmil says that smartphone makers, such as Apple and Samsung, are quite satisfied with the use of Cellebrite's technology.
"There's a clear conflict between us, who seek to allow investigators to obtain evidence to keep the public safe, and an organization that advocates privacy protection. But at the end of the day, I sleep well because I know for whom I work and what values I serve. I guess the smartphone makers are happy too because otherwise, the regulators would have found other ways to force them to disclose the information."
Cellebrite's ability to penetrate cellular devices brings to mind another Israeli company, NSO, which is capable of hacking people's phones without their consent.
Human rights organizations like to point their finger at the two companies, arguing Israeli technology helps dark regimes silence any objection or criticism.
Carmil resents the comparison: "I know the people at NSO and appreciate their know-how, but Cellebrite works in the legitimate world of the police force, whose abilities are closely controlled, unlike the world of NSO customers and others who engage in illegal and concealed. Cellebrite is totally on the good side, where court orders are used. We do not make tools for breaking into private entities or espionage organizations."
Amazia Keidar, Cellebrite's VP of international marketing, says the Cellebrite story is as an Israeli success story as the Waze or Mobileye story.
"Waze has transformed the way people move from one point to another across the globe. Mobileye has transformed the number of road accident victims. Cellebrite helped solve 2.5 million investigations this year alone. Imagine how many people obtained justice just because the police were able to produce evidence with our technology."
Carmil says Cellebrite invests great efforts to ensure its technology does not land in the wrong hands.
"In our field, you have to know beyond any doubt whom to sell and whom to avoid. We have our in-house regulator and an in-house legal department. We are subject to supervised in the USA and Europe. In Israel, we work with the export supervision unit. We sometimes give up substantial revenues, including in places we do not have to do so. We abide by corruption and human rights indices we have developed. 160 countries out of 200 on planet earth are not on our immediate customer list. We focus our efforts on a small number of countries".
Still, your devices are available for purchase on eBay and Amazon…
"I suggest you try and buy one. The person who has put up the device for sale is breaching his contract but is also a fool, because it is like selling a tablet without an operating system. Buying our device online is like buying an empty flower pot. We control all the products remotely, activate the licenses remotely, and make sure they are in the right hands. Whenever in doubt, we place the suspected device on the blacklist."
Is this the reason you draw less fire than NSO?
"I'm saddened by you calling it 'draw fire', saying we do not receive enough attention even though Cellebrite tools were involved over the past year in solving 2.5 million investigations of financial crimes, rapes, murders, and the largest terror shooting you can imagine, such as the Bataclan attack and other events. Cellebrite was there for the French, British, and Madrid police forces, with equipment and tools on the ground to promote a safer world."
Last June, Cellebrite announced the UFEF Premium. The "Universal Forensic Extraction" technology allows the extraction of all types of information from Android or Apple devices, including smartwatches and even from drones seized by the police.
Better still, the extraction can be performed on-site, rather than in the lab. This emerging field is called mobile forensics.
"Equipped by a court order, we take every evidence that the law allows us to collect from the crime scene," says Carmil.
"With our capabilities, you can extract almost everything from the smartphone - open, hidden or deleted information."
But Cellebrite does much more than that.
The company is talking about the new area of digital intelligence.
In a world filled with numerous digital sources – smartphones, smartwatches, drones, PC's, smart cars, smart homes and countless cameras on the streets, the amounts of information are vast, exceeding the human processing capacity by far.
Carmil describes the digital policing of the new age: "There is an ocean of information out there; petabytes of data. We tend to the entire digital stream: extract the digital information, release it, lock it, decipher it, gain access to it, process and compile the data into a pile of evidence and then make sense of the information and manage it. Today's police forces need a far smarter digital stream. Cellebrite helps them with digital policing. We estimate our technologies help the police solve nine out of ten cases."
This is where artificial intelligence comes into play.
As in every area that collects large amounts of information - big data, deep learning systems can quickly reach insights that were previously out of reach.
Cellebrite offers its customers predictive analytics, which alerts on potential crimes based on the endless data it collects.
Cellebrite's machine learning system can detect code words and hints that suggest such eventualities, point to criminals that might be involved in a specific event, locate weapons in databases on thousands of images and conclude their location, and more.
Can your capabilities place in a situation such as the one in Minority Report, the film where the police get to the killer before he commits the crime?
"Our analytical tool exceeds all analytical tools offered by others because we rely on high-quality information, which other companies cannot obtain. In Thailand, for example, we stopped human trafficking with our capabilities. The police were able to stop a specific truck on the border crossing, lift the tarpaulin cover, and discover the chained women and children transported to be sold for prostitution."
But there are also reports that your equipment is used by immigration policy forces to extract data from the phones of poor immigrants caught smuggling the border.
"Let's face the facts: we cannot change the world. There are terrorist cells in Belgium, France, and the UK. Some of these cells are the result of people crossing the borders illegally. We did not invent ISIS. Negative elements like these must be addressed. The world is not innocent. When I need to take data from immigrants to keep my country safe, I feel I am on the right side of the law. We recently signed a contract with the US Immigration and Customs Enforcement (ICE) in which we take great pride. At the end of the day, the technologies are used to stop terrorist attacks or drug dealers, and the crime rates in Mexico are on the rise."
Cellebrite is marking its 20th anniversary this year. Founded in 1999 by Yaron Baratz, Yuval Aflalo, and Avi Yablonka, its first product was the data backup and transfer device used between cellphones in the customer service stations of cellular operators.
A decade ago, Cellebrite was acquired by the Japanese Sun Corporation for $17 million.
Since then, it has been focusing on forensic information with Yossi Carmil and Ron Serber at the helm.
Last May, the Israeli IGP Fund acquired 30% of Cellebrite based on a market cap of $600 million.
Today, with hundreds of customers, approximately half of them in the USA, the company's revenues are estimated at $160 million a year, and its annual growth rate is between 20%-30%. The company employs 760 people across the globe, of which 300 in R&D in its Petach Tikva facilities and the rest in 12 offices worldwide. With healthy cash reserves, the company will use the new investment capital to expand even more.
Carmil: "In the next three years, we will double our size through organic growth. The new investment will be used mainly for inorganic growth. We want to expand our analytics and forensic computing, as well as in predictive technology and AI. We look to buy companies in these areas, which would provide us with complementing technologies and help us improve our profit margins. We aim high because we are looking for strategic acquisitions that would bring us more business."