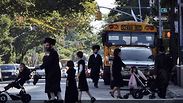 A group of youths are suspected of carrying out numerous attacks against Jewish targets in Boro park in Brooklyn, New York, U.S. media reported on Saturday.

The youths are suspected of hurling eggs at multiple locations including a Brooklyn synagogue, a girls' school, a bus, and multiple residences.

Video footage captured one egging attack at the Khal Bnei Torah Sanz synagogue on Dahill Rd, near Cortelyou Rd and 37th St, just after the end of Shabbat, the Boro Park 24 news outlet reported.

Surveillance footage of the incident shows four minors ostensibly mocking the Jewish prayer site as they walk by.

Seconds after an unidentified man opens the front entrance of the synagogue, an egg can be seen flying directly into the building.

Boro Park 24 reported that the nearby Belzer all-girls' school was also targeted in the egging attack.

The news outlet claims the attacks are a part of a pattern of harassment, all seem to be originating from the South Asian community that borders Boro Park.

NYPD said that they have opened an investigation into the attacks and are searching for suspects.

If captured, the perpetrators could face possible hate crime charges.

Boro (also spelled Borough) Park is home to one of the largest Orthodox Jewish communities outside Israel, with Jewish families settling in the area since the turn of the 20th century.