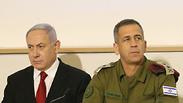 Benjamin Netanyahyu and Aviv Kochavi
Photo: Moti Kimchi
IDF chief: Ready for Gaza escalation after Jihad commander hit, will resume targeted killings if need be
PM says operation to eliminate 'ticking bomb' Baha Abu al-Atta approved 10 days ago, carried out with maximum success and minimum collateral damage; Netanyahu and Kochavi both urge Israelis to heed Home Front Command instructions
Israel does not want an escalation of violence after the IDF killed an Islamic Jihad commander in Gaza, IDF Chief of Staff Aviv Kochavi said Tuesday, but warned the country was prepared for such a scenario and would even use further targeted killings to protect itself.
Kochavi was speaking alongside Prime Minister Benjamin Netanyahu and Shin Bet Director Nadav Argman said Tuesday after the three emerged from an hours-long security cabinet meeting at the military headquarters in Tel Aviv.
"We are preparing air, naval and ground defenses as well as for continued fighting. If we must, we will also move to targeted killings," Kochavi said.
"Baha Abu al-Atta was the senior commander of Islamic Jihad in the Gaza Strip. He was the man responsible for most of the attacks that emanated from the Gaza Strip during the past year and even before," he said.
"He was responsible for sniper fire and shooting attacks, he was responsible for dozens of rocket strikes.
"He was responsible for the rocket fire 10 days ago and the rocket fire two days before Remembrance Day and a further long string of attacks.
"He was the man who greatly undermined security and stability in the south of the country - especially in the communities bordering the Gaza Strip. He was the man who took every action to sabotage attempts to calm the situation with Hamas."
Abu al-Atta was killed along with his wife in a surgical IDF strike on a house in Gaza City at around 4am Tuesday morning. Islamic Jihad and Hamas both vowed retribution for the strike.
The response came soon after, with dozens of rockets being fired at communities across southern and central Israel.
At least 29 people were treated for shock and minor injuries sustained as they ran for their bomb shelters. Two people were lightly hurt by shrapnel.
Flanked by Kochavi and Argaman, the prime minister said the operation to kill Abu al-Atta was unanimously approved by the cabinet 10 days ago and was jointly carried out with "maximum success" by the IDF and the Shin Bet.

According to Netanyahu, Abu al-Atta "was in the midst of planning further attacks. He was a ticking bomb."
He said that the IDF and the Shin Bet "identified a unique window of opportunity... with maximum success and minimal collateral damage."
The prime minister also said that Israel jad no wish to see an escalation in Gaza, but that the country would "do whatever it takes to protect ourselves."
Netanyahu urged Israelis to follow the instructions of the IDF Home Front Command.