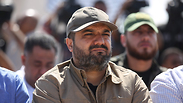 Baha Abu al-Ata
Photo: AFP
The top brass of Islamic jihad military wing in the Gaza Strip, among them Baha Abu al-Ata, who was assassinated by Israel in a predawn strike, are very devoted to keeping their whereabouts unknown.

They try to stay out of the spotlight, trying not reveal their names or release their images.

Abu al-Ata's exposure by Israel seven months ago was a sign of impending actions against him by the IDF, and with Chief of Staff Aviv Kochavi warning that further targeted killings are not off the table, his associates could also find themselves in Israel's crosshairs.

Head of the Military Wing: Akram al-Ajouri

As part of his role as the leader of the organization's military wing, Ajouri is essentially the deputy to Islamic Jihad leader Ziyad al-Nakhalah.

His house in Syria was allegedly attacked by Israel on Tuesday morning as part of the Abu al-Ata hit, resulting in his son's death. It is still not clear whether Ajouri was hurt as well.

Ajouri was born in Gaza and lives in Syria and Lebanon. He first started as a member of the Islamic Jihad international branch, where he climbed up the ranks to become a senior member of the body's military council.

His other role is as the main caretaker for the organization's funding. He keeps very close ties with Iran, and specifically with the leader of the Revolutionary Guard's Al-Quds division Qasem Soleimani and Hezbollah chief Hassan Nasrallah.

Head of the Southern Gaza Division: Halil Batini

Batini resides in the Tuffah neighborhood of Gaza. He belongs to a family long synonymous with the organization and its ideology. Palestinian sources tell Ynet that Batini is an impressive soldier.

His training was conducted in Iran, traveling through Egypt on his way back, he was detained for several months by the Egyptian police. It should be noted that this was the same way he reached Iran, from Cairo to Tehran, where his first time around was untroubled by the authorities. Upon his release, Islamic Jihad celebrated his return to Gaza.

From an early age, Batinin was marked for greatness in Islamic Jihad. His brother, Muhamad Batini, who was an armed activist in the organization, was killed by the IDF in 2006 following Israel's withdrawal from the Gaza Strip.

During Operation Protective Edge in 2014, the IDF destroyed his house in an airstrike.

Those who have met him say he acts like a wanted man and rarely goes to see his family.

He was responsible for several attacks against IDF targets, which helped quicken his rise through the ranks.

He is described as a religious man, though not as religious as expected from a senior official in an organization that made fanatical religiosity its mission statement.

Head of the Rafah Division: Khaled Mansur

Mansur oversees the southern sector of the Gaza Strip, including the smuggling routes moving in weapons from Iran, via Egypt.

He's one of the main proponents for cooperation with Hamas, although he was a sworn enemy of Hamas several years ago and was arrested by them several times.

In contrast to Hamas, Islamic Jihad has no centralized leadership in Gaza. The leaders of the various divisions meet in a council to coordinate their actions, receiving direct orders from the group's leaders in Syria.

According to sources, Abu al-Ata was top dog in Gaza, and it is uncertain who will replace him.

Generally, the northern division always had more influence and power than its southern counterpart, making it even more unclear who will rise in the organization's Gaza branch.