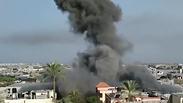 Israeli strikes on Islamic Jihad targets in Gaza
IDF: Islamic Jihad is regrouping after severe blows
The military warns terror group using rocket fire in tactical manner, firing rockets sparingly in order to extend its capabilities, says longer-range missiles expected to be used as well; spokesperson says Israel chose 'elimination' over 'education' for Abu al-Ata
The Islamic Jihad terror organization in Gaza is regrouping, having fired more that 250 rockets at Israeli population centers as of Wednesday morning, an IDF spokesman said.
The military spokesperson said the group was reorganizing its forces after it sustained severe hits from the IDF, and was expected to fire more rockets.
The Iron Dome missile defense system has been deployed with an emphasis on the center of Israel, in expectation that Islamic Jihad would use some of its longer-range missiles to target Tel Aviv and other major cities. So far, the system has had a 90% success rate, the army said late Tuesday.
"Islamic Jihad has resumed its rocket fire. The organization is being measured in its use of rockets, launching one every seven minutes or so in the hope of prolonging its capability to attack Israel," the spokesman said.
"Islamic Jihad was shaken Tuesday after we targeted the commanders in charge of their rocket launching operations, but we expect them to regroup and attack further on Wednesday," he said.
According to the military spokesman, Hamas has so far stayed out of the conflict and the fatalities in Gaza are believed to be Islamic Jihad activists and not Hamas operatives.
But, he added, "it is a very delicate situation and we are continuing to prepare for escalation although we hope none will come."
Israeli reserve troops have not been called up so far.
The spokesman also gave more details about the targeted killing of Islamic Jihad commander Baha Abu al-Ata early Tuesday morning, which prompted the massive rocket barrage on Israeli communities.
"Israel has operated on two tracks in an effort to force Islamic Jihad to stop their terror attacks against us," he said. "One was education, but we ultimately chose the other - which was elimination."
The spokesman again made clear that Israel was not targeting Hamas in its strikes on the Gaza Strip.