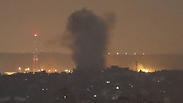 IDF attack on Islamic Jihad targets in Gaza
Photo: AP
Islamic Jihad and Israel reached a ceasefire agreement overnight with Egyptian mediation overnight, although rockets were from Gaza launched at nearby Israeli border communites Thursday morning.
The agreement was to come into effect at 5:30am Thursday.
Islamic Jihad spokesman Musab al-Berim says the ceasefire was based on a list of demands presented by his group late Wednesday, including a halt to Israeli targeted killings of the group's leaders.
The group's leader Ziyad al-Nakhalah outlined the terms for a ceasefire late Wednesday.
"We set clear conditions for Israel," he told Lebanon's pro-Hezbollah Al Mayadeen channel.
"An end to targeted killings in the West Bank and Gaza Strip, an end to attacks on civilians during the March of Return protests (Friday demonstrations along the Gaza border fence that often turn violent) and a commitment to abide by (existing) agreements pertaining to Gaza."
If Israel met these terms, Nakhalah said, "a ceasefire could take effect within days or even hours."
The current round of violence began early Tuesday, with a predawn Israeli strike in Gaza that killed Islamic Jihad commander Baha Abu al-Ata. The organization vowed revenge and while Hamas expressed its solidarity, it never took part in the fighting.
The rocket attacks on Israel followed soon after Abu al-Ata's killing, and on Tuesday the south and large parts of the center of the country came close to a standstill as schools were closed and all non-essential workers were told to stay home or near a bomb shelter.
Rockets were intercepted by Iron Dome as far north as Tel Aviv, with attacks also targeting nearby cities of Holon and Rishon Lezion. The army said Tuesday that the missile defense system had had a 90% success rate.
The rocket fire continued Wednesday morning after an overnight lull, hitting southern communuties throughout the day.
Despite the truce, Foreign Minister Israel Katz said Thursday his country intends to continue its policy of targeting Gaza militants.
"Israel will harm anyone who tries to harm it," he said, echoing comments by other Israel officials in recent days.
#BREAKING: #Egypt and the #UN worked hard to prevent the most dangerous escalation in and around #Gaza from leading to #war. The coming hours and days will be critical. ALL must show maximum restraint and do their part to prevent bloodshed. The #MiddleEast does not need more wars

— Nickolay E. MLADENOV (@nmladenov) November 14, 2019
UN special envoy Nickolay Mladenov called on parties to show maximum restraint after the truce was agreed, writing on Twitter: "The coming hours and days will be critical. ALL must show maximum restraint and do their part to prevent bloodshed. The Middle East does not need more wars."
Palestinian officials reported 34 deaths, including a 7-year-old boy and six members of a single family, in the two days of fighting.
Israel's Magen David Adom emergency service said 77 people were treated for various degrees of injuries since the violence broke out, including an elderly woman from Ashkelon whose assisted living facility was hit by a rocket.