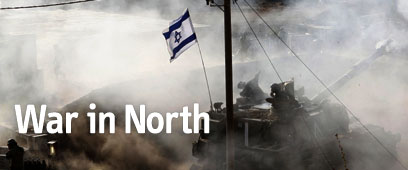 IAF hits targets in Lebanon
Photo: AP

Tank opens fire in south Lebanon
Photo: Reuters
An unexpected source sent messages calling on Israel to hit Hizbullah harshly.

Officials in the Foreign Ministry in Jerusalem, where an Arabic language internet website is being operated, were surprised to read comments by two surfers calling on Israel to use tough military action against Hizbullah and Hamas.

"If Israel doesn't take very very tough offensive actions against this terror, it will open the doors of hell on herself," a reader wrote.

"Arabs understand only the language of force. If they feel Israel is weak they will carry on until it is completely destroyed. That's how they think. What is stopping them is your force and if this thinking evaporates, even if only in their minds, Israel would heavy prices in civilians and casualties. Israel has to be strong until peace is achieved with these terrorists," an anonymous Arab reader wrote.

A British surfer who called himself Said chose to turn directly to Prime Minister Ehud Olmert: "Mr. Olmert, I do not support wars and I am never happy to see Israel losing soldiers and this in order to protect the unsolved of Arabs. But, I believe the State of Israel faces an excellent opportunity to assassinate the extreme Hamas and Hizbullah leadership, which are linked to Syria and Iran who are isolated by the international community."

'Arab regimes are unable to face fundamentalist groups'

"Both these groups, who represent an Islamic and reactionary ideology, work together, each with its futuristic views, and also with the Muslim Brotherhood in Egypt, in order to disperse their backward ideas among Arab citizens. They are spreading a culture of hate among the young, which sent the Middle East 200 years back," he wrote.

The British reader added that he has been trying to contact an Israeli government officials, especially the prime minister, to offer them advice because he is convinced that the only way to live in peace in the Middle East is to use harsh military actions against terror groups.

"The last couple of years have proved that Arab regimes are unable to face these fundamentalist groups. I believe this is the interest of the Israeli people and Arab peoples to take the lead. Like a tree, Israel is acting to achieve this aim and this is for peace before anything else," he wrote.