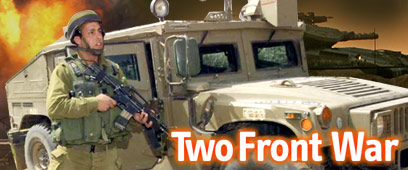 Northern fire (Archive photo)
Photo: Reuters

Hizbullah leader Hassan Nasrallah
Photo: AP

Northern border, Wednesday morning
Photo: Ahiya Raved
Northern attack: 11 wounded; 2 soldiers kidnapped
(VIDEO) Under massive fire in a coordinated attack, Hizbullah kidnaps two IDF soldiers, demands prisoner release in exchange for troops. Israel confirms two soldiers missing. IDF strikes targets in south Lebanon, conducts ground search in bid to locate troops
VIDEO - While all eyes were turned toward the Gaza Strip Wednesday morning following the IDF strike which killed six Palestinians and injured top Hamas leader Muhammad Deif, it appeared that Hizbullah was once again attempting to divert the attention to the northern border, claiming that it abducted two IDF soldiers.
Full coverage:
"In accordance with the obligations the Hizbullah movement has taken on itself to release the prisoners and detainees, the movement managed to capture two soldiers on the border with occupied Palestine. The two were taken to a safe place," the Lebanese organization declared in a statement aired on its television station al-Manar.
Hizbullah even had a concrete offer, which binds the two kidnapping affairs – in the north and in the south: A release of the three kidnapped soldiers, including Corporal Gilad Shalit, in exchange for the release of thousands of prisoners, including Lebanese prisoners who are still held by Israel.
IDF officials confirmed that two soldiers – a reservist and a soldier on compulsory service – were missing. The abduction occurred Wednesday morning. Under loud explosions, which "rocked" the entire region, RPG shells were fired at an IDF Hummer jeep. Blood stains and a breach in the fence were discovered in the area.
Photo: Roee Segali
Western Galilee residents woke up to loud sounds of exchanges of fire on both sides of the border. Explosions were heard on the central and eastern zones. Six people were injured on the western area of the border, one of them sustaining moderate wounds. They were evacuated to the Nahariya hospital.
In the villages of Natua and Zar'it, which are close to the fence, residents reported hearing sounds of light and heavy weapons. At least two mortar shells landed in the area and five soldiers were wounded. The alert level was raised in Israel Defense Forces posts and IAF aircrafts flew over Lebanon.
A ground chase was being conducted in the field, along with aircrafts, in a bid to locate the missing soldier.
"We received instruction that all residents should enter reinforced rooms and shelters," said Gabi Neeman, head of the Shlomi Regional Council. "Our first concern is of course for the children in kindergartens and summer camps.
Ground chase (Photo: Ahiya Raved)

Avi Karampa, head of the Maale Yosef Regional Council, heard from the residents about "clouds of smoke near Hizbulllah posts on the Lebanese side of the border."

Some of the children at a summer camp in Shlomi were at the swimming poll during the first explosion. Older children attended a memorial service for Yehudit Cohen, a resident of town who was killed in a Hizbullah terror attack four years ago.

"The moment the ceremony ended, the first fall occurred," said Avi Biton, manager of the summer camp. "We gathered all the children, those who were at the poll and those who were taking part in other activities. Everyone went to watch a movie in a fortified area in the community center. There is nothing to do, we are accustomed to this. Only several parents came to pick up the children because they know we can be trusted and that the children are protected."

Israel warns Beirut

The situation on the northern border escalated about a month and a half ago following a massive fire of Katyusha rockets aimed at Israel. Northern residents were forced to enter shelters once again, and in response the IDF blasted Hizbullah posts along the border.

Recently, according to reports, Israel conveyed a harsh message to the Lebanese government through the Americans and other elements, following warnings on plans to "inflame" the northern border while Gaza is on fire.

Hizbullah leader Hassan Nasrallah had even tried to get involved in the Palestinian turmoil, when he "recommended" to Gilad Shalit's abductors to only release him in return for a comprehensive prisoner and hostage exchange deal.

From the IDF's perspective, the entire "northern front," as it is called in Israel, is involved up to its neck in the kidnapped soldier affair. Once and again Jerusalem has blamed senior Hamas members in Damascus for planning the abduction and have pointed a finger at Syrian President Bashar Assad, including launching aerial flights by IAF warplanes over his palace.

Hagai Einav, Hanan Greenberg, Roee Nahmias and Efrat Weiss contributed to the report