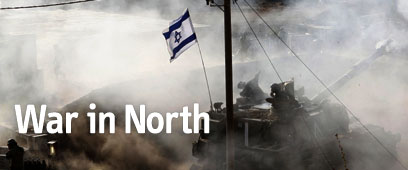 Injured evacuated to Ziv Hospital
Photo: Doron Golan

Katyusha blast in Safed
Photo: Channel 1

Katyusha damages in Safed
Photo: Yaron Brenner
Woman, grandson killed in Meron rocket attack
(VIDEO) Woman, four-year-old grandson killed by Katyusha that hit house in Meron; child's parents, six others, including 10-year-old girl, also hurt; earlier, Katyusha rocket hits house in Safed, wounding 12 people. One person in serious condition after sustaining head injuries; some 14 rockets hit town Friday afternoon. Simultaneously rockets fired at Nahariya, land in heart of town; two lightly injured in strike
VIDEO - Hizbullah continues to strike north: A woman and her four-year-old grandson who were injured by a Katyusha rocket that hit a house in the Meron community near Safed early Friday evening died of their injuries.
The child's parents, along with six other people, were injured in the attack.
Among the wounded is a 10-year-old girl who is said to be in serious condition after shrapnel struck her neck.
Some of the injured, including the girl and her grandfather, who sustained injuries to his leg, were evacuated to Ziv Hospital in Safed. Three people suffering from anxiety were also taken to the hospital. Loud explosions were heard near the hospital during the wait for those injured in the attack on Meron, and staff members were instructed to enter the building.
At least 300 Katyusha rockets and 500 motar shells have been fired by Hizbullah into Israel since violence started three days ago.
The cities of Carmiel and Nahariya suffered direct Katyusha hits earlier Friday. Paramedics reported that two people were lighlty injured in Nahariya.
Throughout the day, Katyusha barrages landed in Safed, Nahariya, Hatzor, Kiryat Shmona, Karmiel, Matat, Sasa, Pki'in and Beit Jan. One of the rockets directly hit a house in Safed, injuring 12 people. One person sustained a very severe head injury.
Rockets fired from southern Lebanon have also landed on Shomra, Metula, Zarit, and Even Menachem. Magen David Adom paramedics said over 50 civilians have been treated so far, including two in Yesod Hamaale where two katyusha rockets exploded.
Earlier Strikes
Six rockets land in Nahariya area, causing no injuries. Earlier, rockets land in open areas near Safed, Rosh Pina. Power supply in Safed disrupted following strikes. Senior Hizbullah member threatens: 'Enemy should prepare for surprises in response to Israel's bombardments.' Nahariya residents called to take shelter, enter reinforced rooms
Head of the emergency room in Ziv Hospital, Dr. Hussein Amar, said that one of the injured sustained serious wounds, two are in moderate condition and the rest were lightly injured by shrapnel and shock wave. Magen David Adom teams are set to evacuate more people to the hospital.
At least 14 rockets landed in the town in three or four barrages and the town's residents still suffer from disruptions to the power supply caused by earlier rocket attacks.
Injured evacuated to hospital in Safed (Photo: Doron Golan)
At least two barrages fell near Kiryat Shmona. One barrage landed near a factory in the city's northern industrial zone and the second landed near the community of Beit Hillel.
Deputy director-general of the hospital, Dr, Calin Shapira, said: "The sights of the injured arriving at the hospital remind us of the Lebanon War. Although Katyushas didn't land in Safed then, they hit Kiryat Shmona and the area."
Lior Lasri, 16, witnesses one of the strikes: "I heard a loud blats, I was walking in the street and suddenly heard a shriek. I saw fire and bent down quickly."
The Ziv Hospital has been on high alert since Wednesday, and will continue to operate at the same preparedness level throughout the weekend. The hospital staff has been asked to be available for call 24 hours and able to come in to work on a short notice.
Simultaneously, a rocket barrage landed in the heart of Nahariya, lightly injuring six people.
The Katyushas landed close the town's center in Weizmann Street, just meters away from where a meeting of heads of the Nahariya authorities was held at the time. Vice Premier Shimon Peres and other ministers were attending the meeting.
Injured in Nahariya hospital (Photo: Niv Calderon)

Additional rockets hit Hatzor Haglilit near Rosh Pina. Several people suffered from shock after a rocket landed near a bomb shelter and avehicle that was parked nearby caught on fire. One rocket landed in the village of Beit Jan.

At least two barrages fell near Kiryat Shmona. One barrage landed near a factory in the city's northern industrial zone and the second landed near the village of Beit Hillel.

Meanwhile, other rockets landed in the communities of Biranit, Matat and Sasa on the northern border.

Karmiel residents were told to enter bomb shelters and protected structures, after a number of Katyusha rockets landed near the city. There were no reports of injuries or damage.

IDF strikes in Lebanon

The IDF said that since the morning hours the Air Force struck 17 targets across Lebanon. Six Qassam launchers were hit, as well as runways and fuel depots at Beirut's international airport, and a Katyusha warehouse in southern Lebanon.

A number of bridges and a storage structure for anti-tank missiles owned by Hizbullah were hit, as well as another airport.

"We defined a clear mission to the IDF," a senior officer said Friday noon. "Our aim is to hit Hizbullah badly. Everyone affiliated with this organization is a target. Hizbullah tries to set Israel up by firing the Katyusha at Haifa and create deterrence, but we won't let this group bring us down," he said.

North under fire

Six Katyushas landed Friday at about 1 p.m. in the western Galilee region. Two of the rockets landed near Nahariya's cemetery and industrial zone. The other four landed in the area of kibbutz Kabri, kibbutz Gesher Haziv, kibbutz Saar and the community of Ban Ami.



Safed house damaged by rocket (Photo: Yaron Brenner)
No injuries or damage were reported in the incidents, but several fires broke at the rockets' landing sites that are now being extinguished.
Earlier, serious damages have caused interferences to the electrical grid in the Safed area, following the Katyusha rocket attacks on town Friday.
The Electric Company is working in coordination with security officials to repair the damages and has called on citizens to keep their distance from torn power cables.
A Katyusha rocket barrage landed Friday morning in an open area in the Moshav Biria, near Safed. There were no reports of injuries, and firefighters were working to put out the fire that started in the area.
Simultaneously, rockets were fired at Rosh Pina. There were no reports of injuries. Earlier, rockets landed in open areas near Kibbutz Baram in the Galilee panhandle.
Hanan Greenberg, Neta Sela, Aviram Zino and Ahiya Raved contributed to the report