Avital
Photo: Lauren Lions
(VIDEO) Vice Premier Shimon Peres was elected Israel's ninth president Wednesday afternoon by a Knesset majority, with 86 MKs voting in favor of him, 23 against, eight abstaining, one MK missing and two spoiled ballots.

Fit for the Job?

Presidential candidate Peres fit to head 'State of Guinness' but not Israel

In the first round of voting, Peres received 58 votes, three short of the 61 majority needed. Rival candidates Reuven Rivlin and Colette Avital only scored 37 votes and 21 votes, respectively. In the second round, Rivlin and Avital both stepped down and the Knesset was left to vote for or against Peres.

Peres will enter office in mid-July, replacing Acting President Dalia Itzik and the temporarily suspended current president, Moshe Katsav.

"This may be my last contribution to the State," Peres said during his campaign, and the race was indeed one of paramount significance to Peres, a staple figure of Israel's leadership since the country was founded.



Olmert, Itzik and Peres (Photo: Gil Yohanan)

The Knesset plenum broke into applause when Speaker Dalia Itzik announced that for the first time since 1959, Shimon Peres would no longer be an MK. "I thought I would probably have to call security to remove you by force," said a smiling Itzik to Peres, adding later that by electing him the Knesset has proven that it is capable of truly listening to the public.

'Excited, thrilled and embarrassed'

Peres himself was all smiles as he thanked Prime Minister Ehud Olmert and the Kadima party for supporting him throughout his candidacy. He also thanked the MKs for their show of unity, promising that "the president does not deal with politics and partisanship; he represents unity in a strong voice and expels despair from our midst."

"I am excited and thrilled and embarrassed by this Knesset vote," said Peres, "it caught me completely unprepared and I have witnessed today a show of unity, of togetherness, of democracy at its finest. Today the Knesset showed nobility and camaraderie. I am the man who was elected but in my heart I know that the Knesset chose to prove today that the elected establishment is in touch with the heart of the people and represents that people faithfully."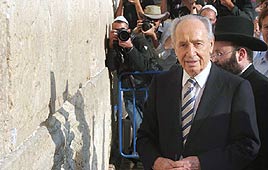 To Itzik who "fired me from the Knesset today" Peres said: "Never in my wildest dreams did I ever imagine that Dalia would be the one to hand over the job, but if it's already been dreamt – it had better come true."
Peres thanked his family for their support and spoke warmly of his wife Sonia: "A word to the love of my life, to Sonia, is truly a rare kind of woman; she discovered in her recent bout of illness just how much the country loves her, perhaps because she is humble and dedicated to this country with all her being."
Peres continued from his victory party to the Western Wall in Jerusalem to meet with Rabbi Ovadia Yosef, who instructed the members of the Shas party to vote for Peres.
"I am an admirer of the rabbi," Peres said, 'he is a genius and the nation of Israel must be thankful to him."
Peres was born in Poland in 1923 and immigrated to Israel while a boy. He is married with three children,
eight grandchildren and two great-grandchildren. A politician since his early youth he was considered one of those closest to David Ben-Gurion, Israel's first prime minister. He has served as prime minister and headed numerous government ministries.
In 1994 he was awarded the Nobel peace prize with Yitzhak Rabin and Yasser Arafat.