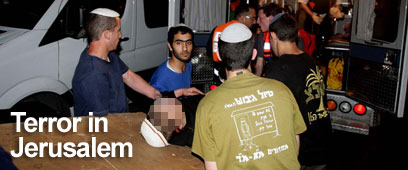 VIDEO - East Jerusalem residents said Friday that the terrorist who killed eight students at the Mercaz Harav yeshiva in Jerusalem on Thursday had worked as a driver at the seminary.
Israeli police spokesman Micky Rosenfeld said the gunman was from Jabel Mukaber, a neighborhood in east Jerusalem, where Palestinian residents hold Israeli ID cards that give them freedom of movement in Israel. The man worked as a driver, Rosenfeld said, but would not provide further details.
Video courtesy of Infolive.tv
Rosenfeld said the attacker walked through the seminary's main gate and entered the library, where witnesses said some 80 students were gathered. He carried an assault rifle and pistol, and used both weapons in the attack. Rosenfeld said at least six empty bullet clips were found on the floor.
Mourning the Dead
(Video) Thousands gather Friday at Mercaz Harav yeshiva in Jerusalem to bid farewell to eight students killed in Thursday's terror attack. Mother of 16-year-old Avraham David Mozes says, 'God saw him as an angel, and we must thank him for the privilege of raising him for 16 years'
Several residents of the neighborhood gave the gunman's name as Alaa Abu Dheim, 20. They said he was arrested by Israeli authorities four months ago and then released two months later.
Abu Dheim's family set up a mourning tent Friday and hung green Hamas flags outside their home.
Earlier Friday, police found a car believed to have been used by the terrorist. Several gun bullets and additional items were uncovered in the vehicle.
Responsibility for the deadly attack has yet to be claimed by any organization, despite an unofficial report that "the Liberated of the Galilee" were behind it. The Islamic Jihad rushed to welcome the attack and accuse Israel.
Not the first time
The involvement of Israeli Arabs in terror attacks is a problem the defense establishment has been forced to deal with quite a lot. This trend has continued over the past years, usually on the backdrop of Israeli Arabs' encounters with terror activists.
The investigation into the attack has yet to be completed. One of the main issues is whether the terrorist was sent by one of the terror organizations while taking advantage of his Israeli identity cars, and how he obtained the weapon.
Shin Bet data show that most of the organizations involving Israeli Arabs were prepared by terror groups in the West Bank.
More than 50 Israeli Arabs have been arrested over the past three years on suspicion of being involved in terror. Nearly half of them are Palestinians who have received a permit to stay in Israel and an Israeli identity card on the backdrop of their marriage to an Israeli Arab, and terror groups seek to recruit them due to their access to Israeli targets.
The Associated Press contributed to this report