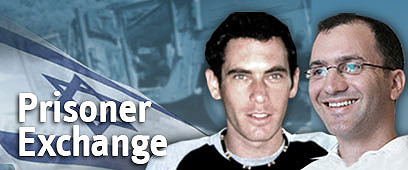 Haniyeh. Also wants deal
Photo: Reuters

Kuntar upon his release
Photo courtesy of Israel Prison Service

Hizbullah's 'Triumphal arch'
Photo: AFP

Celebrations expected in PA as well
Photo: AP
Abbas congratulates Kuntar's family; Haniyeh: Israel will pay more
(VIDEO) Palestinian president welcomes swap deal between Israel, Hizbullah. Hamas' prime minister in Gaza says, 'The resistance's victory proved the rightness of our way.' Spokesman for Popular Resistance Committees says kidnapping soldiers is ideal way to release Palestinian prisoners
VIDEO - Celebrating in Gaza and Ramallah as well: Palestinian President Mahmoud Abbas on Wednesday welcomed the execution of the prisoner exchange deal between Israel and Hizbullah. Abbas congratulated the family of released Lebanese murderer Samir Kuntar and sent his condolences to the Lebanese families receiving their loved ones' bodies as part of the deal.
Video courtesy of Infolive.tv
Hamas' prime minister in the Gaza Strip, Ismail Haniyeh, congratulated Kuntar and Hizbullah for "the great victory of the resistance, which proved the rightness of our way."
Tragic End
Kidnapped troops return in coffins from Lebanon
Ynet reporters
(VIDEO) Abduction affair which ignited Second Lebanon War comes to its tragic end as bodies of Eldad Regev, Ehud Goldwasser handed over to Red Cross
He said Hamas would not abandon the Palestinian prisoners jailed in Israel.
Haniyeh arrived at the home of a Palestinian woman who adopted Kuntar in Gaza's al-Bureij refugee camp, where he held a press conference shortly before the prisoner exchange between Israel and Hizbullah was executed.
"Today we stress again that we won't give up our prisoners. We won't be able to waive these heroes without an honorable deal for our prisoners in Israel. The Israelis must pay a price. They must know that they will pay a price in return for an exchange deal. We cannot accept having these prisoners remain in jail."
Hizbullah's al-Manar network reports of celebrations (Photo: AFP)
He mentioned the negotiations for a deal between Israel and Hamas, which would secure the release of kidnapped IDF soldier Gilad Shalit.
"There is a captive Israeli solder and thousands of prisoners on our side. We are interested in finalizing this issue as soon as possible, but they must accept the Palestinian demands. They must accept the demands of the Palestinian resistance sentenced to long jail terms, parliament members, sick people, women, etc.
"Second, from the al-Bureij camp, the camp of strong standing, I once against congratulate Lebanon. We tell them that this operation is the best lesson that can be achieved – a victory over the occupation, liberating lands and liberating prisoners."
The Hamas prime minister said that the deal with Hizbullah, which included the return of the bodies of kidnapped soldiers Eldad Regev and Ehud Goldwasser, gave him hope. "This is a precedent," he said.
He added that "this is a victory for the culture of steadfast standing and refusal to concede. Today is a great day in the days of this nation, which has marked a victory in the release of prisoners and the return of the bodies of Lebanese, Palestinians, Yemenis and Pakistanis.
"Today Palestinian embarks on a new era. Samir Kuntar, this huge hero, who sacrificed 30 years of his life for the Palestinian issue, for Palestine – is a legend due to the agony he suffered in the Israeli jail.
Candy handed out in Gaza
Shortly after the implementation of the Israel-Hizbullah prisoner exchange deal, candy was handed out to residents in Gaza.

Ziad abu al-Enain, director-general of the Ministry for Prisoner Affairs of the Salam Fayyad government and one of Fatah's senior members in the territories, said Wednesday morning, "The Palestinians congratulate Hizbullah and its leader and send their best wishes to all the Lebanese people and to all the Palestinians upon the completion of the deal and the release of heroes, headed by the prisoners' leader, Samir Kuntar."

He added that processions would be held in the territories Wednesday to express the Palestinians' solidarity following the completion of the deal.



Posters in Lebanon celebrating swap deal (Photo: Reuters)

Abu Mujahed, a spokesman for the Popular Resistance Committees, told Ynet that the completion of the deal "even after the images of the Israeli soldiers' coffins, proves that kidnapping soldiers will continue to be the most efficient, favored and ideal way to release Palestinian prisoners, particularly those defined by the enemy as having blood on their hands."

According to Abu Mujehad, the Lebanese and Palestinian resistance will continue to work to kidnap soldiers in order to release prisoners "and in order to retrieve our rights, after it has been proved beyond any doubt that no diplomatic negotiations can release prisoners or return rights."

Security prisoners jailed in Israel were recently disappointed to hear estimations and leaks that the number of Palestinian prisoners released as part of the deal with Hizbullah will not cross 150. It is also unclear when they will be released.
Kuntar's mother sends '1,000 greetings' to Nasrallah
Samir Kuntar's mother joined the cries of joy on Wednesday afternoon, praising Hizbullah leader Nasrallah for "the huge achievement."
In an interview with the al-Manar network, Kuntar's mother, also known as Um Jabar, said that "there is no limit to my joy today. I cannot express my feelings. This is complete liberty. For three days I have been getting phone calls from residents of Palestine, Yemen, Morocco and other countries, who congratulate me and I congratulate them."
Um Jabar mentioned Nasrallah's activity, adding, "I congratulate Hizbullah Secretary-General Hassan Nasrallah a thousand times for the huge achievement he accomplished through his efforts, wisdom and honor. I also congratulate Lebanon and the village of Aabey, where Samir was born."
Roee Nahmias contributed to this report