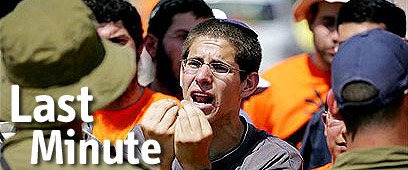 Young activists have infiltrated Gush Katif
Photo: Ilan Marciano
In recent nights, various activists from the Yesha Council and the leadership of Gush Katif have been busy in the Council Building in Nave Dekalim, working until the small hours.

The aim of the project is to reign in youths who, the settler leadership worries, may do something extreme.

Mobilization

Palestinian Authority plans to transfer Palestinian gunmen from Lebanese refugee camps to boost its strength in Gaza, Lebanese newspaper reports

"Most of the youth listen to us, but there are also those who don't recognize us and don't listen to every order. We are trying to locate people who can control them, so that they don't, God forbid, harm soldiers or themselves," said one of the organizers.

Ynet has learned that two of the youths who have infiltrated Gush Katif are seen as "potentially suicidal."

A renowned educator within the national-religious camp has been called in order to deal with the individuals, but so far he has not managed to locate them.

Around 2,800 youths have infiltrated Gush Katif in the past month and have set up base in Nave Dekalim.

The heads of the settler leadership in the area are worried about extreme scenarios, some of which have already been sketched out by security officials.

"Small groups of youths could cause a lot of trouble," said a source from Gush Katif. It is for that reason that a spiritual leadership has been set up to avoid such nightmare scenarios, which include the possibility of youths fortressing themselves, or carrying out an extreme and dangerous act.

A source involve in attempts to control the youths told Ynet that "within the turmoil that exists we are trying to create some order.

We must forge some sort of balance so that when everyone is rallied around the flag, everyone indeed arrives. We don't know how the 'real crazy ones' will act," said the source.