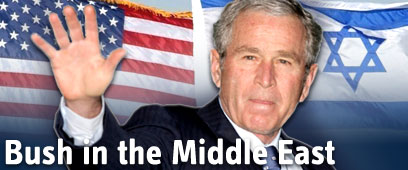 Bush and Abbas in Ramallah
Photo: AP

Last preparations in Ramallah
Photo: AFP
Bush: Peace treaty by end of my term
US president predicts Mideast peace treaty will be completed by time he leaves office. 'I am confident that with proper help, the state of Palestine will emerge,' he says in joint press conference with Palestinian President Abbas in Ramallah; Abbas says visit historic, gives Palestinians 'great hope'
RAMALLAH - US President George W. Bush on Thursday predicted that a Mideast peace treaty would be completed by the time he leaves office. He said he was convinced that both Israeli and Palestinian leaders understand "the importance of democratic states living side by side" In peace.
"I am confident that with proper help, the state of Palestine will emerge," Bush told Palestinian President
Mahmoud Abbas. "And I'm confident when it emerges, it will be a major step toward peace. I am confident that the status quo is unacceptable, Mr. President, and we want to help you."
Olmert to Bush:
At end of meeting with US president in capital, prime minister makes it clear Israel will not halt building plan in east Jerusalem despite American objection. 'We made it clear Jerusalem's status is different than that of the settlements,' Olmert says. Bush chooses not to confront his host, focuses on outposts: 'They must be evacuated'
Abbas, standing alongside Bush, called on Israel to fulfill its commitments to a Mideast peace plan, and said he hoped "this will be the year for the creation of peace."
"In order for there to be lasting peace, President Abbas
and Prime Minister Olmert have to come together and make tough choices," Bush said. "And I'm convinced they will. And I believe it's possible - not only possible, I believe it's going to happen - that there be a signed peace treaty by the time I leave office (in January 2009). That's what I believe."
The president described the current round of negotiations as an opportunity to move toward a day when there will be two democracies - Israel and a Palestinian state - living alongside one another in peace. "It is in the interest not only of the Palestinians and Israelis but of the world," Bush said.
"We can stay stuck in the past, which will yield nothing
good for the Palestinians in my judgment," he said. "We
can chart a hopeful future."
Hamas has "delivered nothing but misery" to Palestinians living in Gaza, Bush said, adding that he doesn't know whether the West Bank-led government of Abbas can resolve the Palestinian division this year.
Bush also said he understands Palestinian frustrations over checkpoints throughout the West Bank but added that they are necessary for now to give Israelis a sense of security.
"Checkpoints create frustrations for people. They create a sense of security for Israelis. They create massive frustration for the Palestinians," Bush said. "The whole object is to create a state that is capable of defending itself internally and giving confidence to its neighbor that checkpoints won't be needed."
Abbas and Bush on red carpet (Photo: Reuters)
Bush arrived at Abbas' headquarters on Thursday for his first-ever visit to the Palestinian Territories, saying he won't be shy about pushing Palestinians and Israelis to make uncomfortable choices in the race for a peace pact before he leaves office.
Abbas greeted Bush as he emerged from his car in the walled compound. The two men walked side by side along a red carpet, flanked by Palestinian security in olive-and-gold uniforms.
Bush, who smiled and chuckled as he climbed out of his limousine to shake hands with Abbas, says he is offering no new proposals for resolving disputes over land rights and terrorist attacks.
In an unprecedented security operation, Palestinian police sealed off streets and erected checkpoints in large parts of this West Bank city during the president's visit. Residents in nearby buildings were told to stay away from windows and balconies, and Palestinian security officials said US snipers were being deployed in the area.
Bush meets Netanyahu, Sharon's sons
After arriving in Israel on Wednesday, Bush was spending much of Thursday in the West Bank, including a pilgrimage to Jesus' traditional birth grotto in biblical Bethlehem.
Abbas' headquarters were repainted and had its helipad repaved ahead of the meeting. Heavy fog, however, forced Bush to travel from Jerusalem to the West Bank city of Ramallah by car, a 30-minute trip.
Following a meeting between Palestinian and American teams, Bush met with Abbas and later with Palestinian Prime Minister Salam Fayyad. In a joint press conference, Abbas said that Bush's visit to the Palestinian Authority was historic and gave the Palestinians great hope.
"The Palestinian people know that you are the first president guaranteeing our right to live in an independent state which will live in peace alongside its neighbors, a state with no settlements and with no fence," the Palestinian president added.
Earlier Thursday, the US president met with opposition leader, Knesset Member Benjamin Netanyahu (Likud) at his Jerusalem hotel. Netanyahu said that as far and he and the Likud party were concerned, Jerusalem will remain united forever under Israeli sovereignty. The two also discussed the Iranian issue.
Bush later met with the sons of former Prime Minister Ariel Sharon, Omri and Gilad.
AP, Ali Waked, Efrat Weiss and Attila Somfalvi contributed to this report