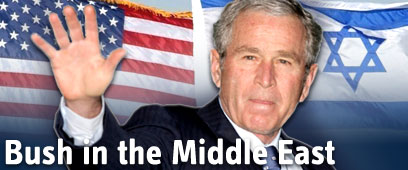 Olmert and Bush at press conference
Photo: Flash 90

Har Homa neighborhood. Construction to continue
Photo: AP
Olmert tells Bush construction in Jerusalem to continue
At end of meeting with US president in capital, prime minister makes it clear Israel will not halt building plan in east Jerusalem despite American objection. 'We made it clear Jerusalem's status is different than that of the settlements,' Olmert says. Bush chooses not to confront his host, focuses on outposts: 'They must be evacuated'
Israel will not accept the American demand to stop building in east Jerusalem's Jewish neighborhoods and in the settlement blocs, Prime Minister Ehud Olmert told US President George W. Bush on Wednesday.

"We made it clear that Jerusalem's status was different than that of other settlements," the prime minister stressed during a joint press conference with the US president, on the backdrop of the disagreement between Israel and the US regarding the demand to freeze the construction in the settlement and beyond the Green Line in the capital.

Sanhedrin to Bush:

Right-wing rabbis pass on small letter to be delivered to US president which asks leader to free convicted spy Jonathan Pollard, declare Israel belongs to Jews, urge American Jews to make aliyah

"The president did not ask me for further commitments in addition to the ones I gave in Annapolis. There are many issues on the agenda, and one of them is the continued construction in the settlement.

"Not everyone likes what we have to say about this, but we made it clear that Jerusalem's status was different than that of the settlements," said Olmert.

The prime minister was not afraid to speak against the American stance, clarifying that Israel never tried to hide what was taking place in the area.

"There are things that will happen in Jerusalem and in the settlement blocs, things that are the result of the daily aspects which cannot be ignored.

"We shall not hide them; we shall discuss them. I reiterate that nothing happened there that is not known. We clarified what we did, what we can do and what we plan to do. We will discuss all these issues as part of negotiations," Olmert stressed.

The US president chose not to confront his Israeli host on the construction in Jerusalem and the settlement blocs, which Israel seeks to hold on to after a permanent agreement is reached with the Palestinians.

Responding to a reporter's question, Bush clarified that "the illegal outposts must be evacuated."

He also criticized the Olmert government's policy on the issue, saying that "four years have passed since we discussed this. The agreement must include the evacuation of the illegal outposts. They must be evacuated."

Diplomatic sources in Jerusalem made it clear that Olmert reiterated Israel's commitment to the Road Map during the prime minister's meetings with President Bush and US Secretary of State Condoleezza Rice. This commitment includes halting the construction of new settlements or the expansion of existing ones, if the Palestinians implement their commitment to fight terror.

"We will discuss this Palestinian demand as the negotiations continue. In the meantime, the prime minister has instructed his ministers to receive his approval for any actions in the settlement. This is how it will be from now on, and certainly in Jerusalem," a diplomatic source said.