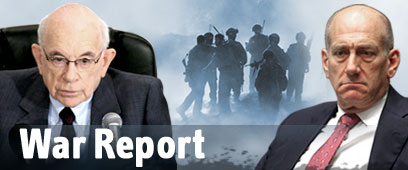 MK Itzchaky
Photo: Dudi Vaaknin
Kadima Knesset Member Avigdor Itzchaky announced Thursday his intention to resign from the Knesset and from politics in three weeks.

Optimism

Prime Minister Ehud Olmert reportedly relieved by final Winograd report, anxious to implement conclusions, shift focus back to peace process. 'We realize we still have political, media, public reactions to deal with,' say aides

Itzchaky has been threatening for a long time to resign from the Knesset if Prime Minister Ehud Olmert failed to do so following the publication of Winograd's report on the Second Lebanon War.

He will be replaced by Shlomo Mula.

Last may Itzchaky stepped down from his post as coalition chairman following the release of Winograd's partial report, and after Foreign Minister Tzipi Livni called on Olmert to resign.

Meanwhile, the vast majority of Kadima's MKs rallied to Olmert's defense Wednesday after the report was released, claiming that the conclusions vindicated him and placed most of the responsibility for the war's failures on the army.

"The opposition's attempt to find flaws in the decision making process has received a crushing response in Winograd's remarks. The opposition must apologize to the public, the prime minister and the bereaved families," Minister Ruhama Avraham-Balila said Wednesday evening.

Meanwhile, the Kadima faction will convene in the Kirya base in Tel Aviv Thursday noon to discuss the Winograd Commission findings.

MK Eli Aflalo declared that the report guaranteed the coalition's future, and that now was the time to "go back to work."