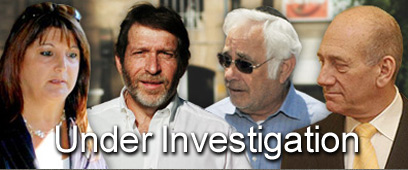 Israeli Prime Minister Ehud Olmert
Photo: AP
Prime Minister Ehud Olmert attorneys filed a motion to suppress Moshe Talansky's pre-trial deposition, Thursday, with the High Court. The motion was denied, and Talansky's deposition remained scheduled for May 25.

The petition noted that the decision to allow Talansky to be deposed prior to any decision about an indictment will harm the prime minister's chances of due legal process. Shula Zaken, Olmert's former bureau chief, also submitted a petition regarding the matter, via her legal counsel.

The Witness

Businessman linked to Olmert corruption allegations questioned under caution while police raid Jerusalem Municipality offices in search of incriminating records

Olmert's attorneys believe that a enforcing the ruling allowing Talansky to testify may hinder the investigation into the alleged monetary transactions between the two

Earlier this week, the Jerusalem District Court granted Attorney General Menachem Mazuz's motion to have Talansky deposed.

The pre-trial deposition will be considered – for all legal intents and purposes – as a would-be court testimony. State Prosecutor Moshe Lador told the court that Talansky "expressed before one of the police officers, a fear that Olmert would send someone to harm him."

On the night of Israel's Independence Day, the court allowed the publication of information revealing that Olmert was investigated for allegedly receiving cash payments from Talansky over a long period of time. Olmert has denied all the allegations.