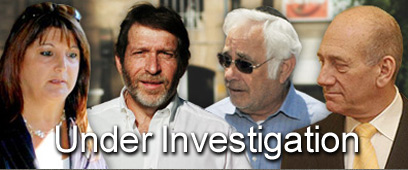 Morris Talansky
Photo: Guy Asayag

Olmert. Indictment to follow?
Photo: AP
Corruption Charge
New York Times reveals new details on prime minister's relationship with American businessman who allegedly bribed him, says Talansky paid for Olmert's stay in luxurious Washington hotel in 2005 at $4,717 a night
Businessman Morris Talansky was summoned to the National Fraud Unit's headquarters for questioning on Monday afternoon in relation to his suspected involvement in the bribery affair Prime Minister Ehud Olmert has recently been implicated in.
Police investigators said Talansky was being questioned under caution. At present time he is suspected of having raised the funds which were subsequently transferred to Olmert through illegal channels.
Court officials involved in the investigation against Olmert said they are likely to request Talansky be required to remain in Israel for an undetermined period of time. Olmert's attorneys have already said they will appeal the demand to have Talansky give an early testimony, however no appeal has been filed as of yet to the High Court.
Talansky requested he be allowed to testify and then immediately leave the country to attend to his wife, who is seriously ill, in the United States. Despite his request, court officials told Ynet on Monday night that, if necessary, "the hold-departure order delaying Talansky's exit from Israel will be extended beyond Wednesday."
Police raid city hall
Meanwhile on Monday, police officers raided the officers of the Jerusalem Municipality and confiscated various documents. Five months earlier police searched several municipal offices, including the Jerusalem Municipality, in connection to other investigations against Olmert.
Several hours prior to the second round of interrogation, a former senior police figure, Yaakov Borovsky, who is familiar with the details of corruption charges against Olmert, said the current affair would likely result in an indictment against the prime minister.
According to the former police official, the latest probe against Olmert stems from other affairs on which the prime minister was investigated by the state comptroller.
"These materials have been gathered by the State Comptroller's Office and handed over to the police and the State Prosecutor's Office… the police is acting with determination, professionalism and courage in this case," he concluded.