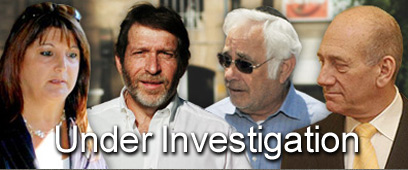 Let the battle begin. Olmert and Talansky
Photo: Guy Asyag, GPO
Prime Minister Ehud Olmert's attorneys filed a motion for continuance with the Jerusalem District Court on Wednesday, asking it allows them an additional two weeks to study the material presented before the court by the State Prosecutor's Office on Sunday.
The court said it would hold a hearing on the matter on Friday. The ruling will determine whether Talansky's deposition will be hear on Sunday, as scheduled, or accept Olmert's charge and postpone it by two weeks.
The motion was filed following Tuesday's Supreme Court ruling to reject Olmert's motion to suppress the State's request to have Morris Talansky, the American businessman suspected of funneling illegal funds to the PM, deposed prior to any final decision on an indictment against Olmert.
Legal Blow
Three High Court justices reject prime minister's petition against early deposition of Morris Talansky, key witness in corruption affair who allegedly handed over cash-filled envelopes to Olmert
Talansky is expected to give his deposition in the next few days. Should the case come to trial, his testimony could be used as any other in a legal proceeding.
The State Prosecutor's Office said Wednesday it would object to any lengthy continuance, but is inclined to agree to postponing the deposition for a few days, should the need arise.
While the sides are battling in out in the courtroom, two of the court-imposed orders pertaining to the case are about to lapse: The first being the hold-departure order issued in order to prevent Talansky from leaving Israel; and the second, the residual gag order placed on the investigation.
The original, comprehensive gag order placed on the probe was significantly reduces after Independence Day, but a gag order still prevent the publication of specific details in the case, such as the exact amounts of money which allegedly exchanged hands, banking details, etc.
Talansky already informed the National Fraud Unit of his intentions to leave Israel next week, for his New York home.