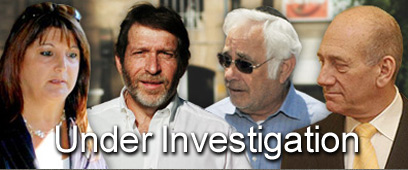 Livni. No longer behind Olmert
Photo: AFP

Mofaz. Slammed foreign minister
Photo: Gil Yohanan
Kadima poll: 39% support Livni, 25% back Mofaz
Survey conducted among 62,000 of Kadima members shows most will vote for foreign minister in future primary elections for party's leadership. As for Prime Minister Ehud Olmert, 60% of respondents believe he should not resign at this stage despite developments in police investigation against him
Thirty-nine percent of Kadima members will vote for Foreign Minister Tzipi Livni in future primary elections for the party's leadership, reveals a poll conducted Thursday evening by Yedioth Ahronoth and the Dahaf Institute among 62,000 of the party's members.

According to the survey, Livni surpasses Transportation Minister Shaul Mofaz, who was supported by 25% of the respondents.

Trouble in Ruling Party

Foreign minister tells Jerusalem conference ruling party must 'prepare for any scenario', including early elections. 'Kadima must elect its candidate for the premiership,' she says. Barak: General elections perhaps before end of the year

The other two ministers who announced they would run for the party's leadership are far behind Livni and Mofaz. Internal Minister Avi Dichter received 15% of the Kadima members' support, while only 8% said they would vote for Interior Minister Meir Sheetrit.

Thousands of people are expected to join the ruling party ahead of the primary elections.

The political snowball began rolling following American businessman Morris Talansky's pre-trial deposition on Tuesday as part of the latest police investigation against Prime Minister Ehud Olmert.

Livni and Defense Minister and Labor Chairman Ehud Barak have announced that Israel must prepare for Knesset elections, and the latter even said that the prime minister cannot stay in office and called on him to either resign or take a temporary leave of absence.

Sixty percent of Kadima's members, however, believe that Olmert does not have to resign at this stage. Fifty-two percent of them say the prime minister should resign only if he is indicted, and 8% believe he should not resign in any event. Thirty-eight percent state that the prime minister must resign immediately.
Mofaz slams Livni
The transportation minister confronted the foreign minister on Thursday evening, after the latter called for primary elections as soon as possible.
"The Barak-Adler-Livni scheme to dismantle Kadima will not succeed. Kadima's fate will be decided only by its members," he said.
Mofaz's associates said that the transportation minister is coordinated with the prime minister and his political agenda, and that Mofaz is interested in holding primary elections during September.
Mofaz, who aspires to one day hold the office of prime minister, has recently intensified his relationship with Olmert. Sarcastically commending Livni, he said, "I am glad she has understood that Kadima is a democratic party, and that any decision will be made during a primary election. However, it's strange that Livni is lending a hand to a conspiracy aimed at uniting Kadima with Labor."
The transportation minister is expected to hold an activists' rally on Tuesday.
Livni broke her long silence earlier Thursday, addressing the suspicions against Olmert and the political crisis following Barak's demand that Olmert suspend himself.
In a Jerusalem conference, the foreign minister said that "Kadima is at a point in which it must make decisions and prepare for any scenario, including early elections."