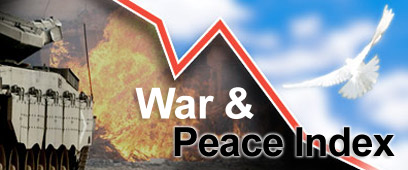 Lacking moral stature. Olmert
Photo: Reuters
Over half of the Jewish public in Israel (69%) believes Prime Minister Ehud Olmert is lacking in moral stature and therefore he should step down regardless of the outcome of the police investigation in his matter, July's War and Peace Index, which was published on Friday, indicates.
The War and Peace Index is conducted by the Tami Steinmetz Center for Peace Research. Published monthly since 1994, it is run by Prof. Ephraim Yaar and Prof. Tamar Hermann and is compiled of a monthly telephone survey of 600 Israeli citizens representing the various sectors in Israeli society.
Election Day
If elections were held now, Kadima under Tzipi Livni would quash Likud while also stealing votes from Labor. Under Mofaz however, Likud triumphs. Study conducted hours before Prime Minister Olmert announced he would step down
The public's discontent, reveled the data, was not limited to Olmert's personal conduct or political leadership alone: Some 53% of those polled said they would like to see the government resign as soon as possible, making way for general elections; 25% said they wanted the current government to stay in office, but with a different person as prime minister; and only 12% said they wanted to current government to stay in office unchanged.
Faced with the recent terror attacks in Jerusalem, and the defense establishment's warning of increased hostile activity emanating from east Jerusalem, the Steinmetz Center inquired about the way Jerusalem is previewed by the Jewish public.
A surprising 56% said they saw the city is being essentially divided – 41% disagreed. Pragmatically speaking, 39% said they have not visited east Jerusalem at all in the past five years; and an additional 39% said they only visited it once in that time; resulting in a staggering 80% of the public, which has refrained from visiting the city.
Nevertheless, 61% of those polled are against Israeli relinquishing east Jerusalem to the Palestinian Authority, even if it would prove to be the pivotal breaking point in a future peace agreement between Israel and the Palestinians.
Media deemed credible
The Index probed the public's perception of media reports concerning events which take place in the territories and found that 48% of the public believed media reports to be credible, as opposed to 34% who believe they are not.
Among those polled, 55% said they believed Israel should protect the Palestinians from settlers' attacks and 31% said the IDF and Border Guard were not doing enough to apprehend settlers who attack Palestinians. The latter assumptions, however, was rejected by 57% of the survey's participants.
A majority of 51% is also against any peace agreement which would entail the evacuation of any more settlements; but 41% said they believed it was an "acceptable price tag for peace." Those polled, said the Steinmetz Center, did differentiate between settlements and illegal outposts, as 47% said they were in favor of the illegal outposts being evacuated and 42% were against the move.
As for the US presidential race, Democratic presidential hopeful Barack Obama's visit to Israel did not help fare any better in the public's eye: Forty-two percent of Israelis still believe that Republican hopeful John McCain will lead an American administration for favorable to Israel, while only 18% said the same of Obama.