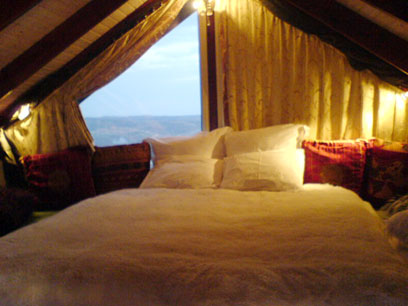 Rooms are available
Photo: Or Alterman

But you may have to give up your breakfast
Photo: Omer Shavit
A secular couple from central Israel, who will be celebrating its first anniversary on Yom Kippur, decided to look into options to mark this special date, on the Day of Atonement of all days.

"We were sure everything would be closed, and were very surprised to discover that there is a flourishing market of zimmers (guesthouses) on Yom Kippur as well," says Michal B.

Day of Atonement?

Emissaries serving in worldwide posts send children to local schools on high holidays. Foreign Ministry official says in response, 'We cannot enter people's private lives; there's no need to release directives on everything'

"The prices are reasonable, and we, who on regular days cannot afford to be pampered in a wooden cabin, plan to take advantage of this opportunity. Some places we called were even out of available rooms for these days."

Mandy Nesher, CEO of the weekend.co.il portal, says that as far as tourist industry members are concerned, Yom Kippur is a regular business day.

"If you want to come, they'll welcome you as a guest, just like you would go to a hotel," he says.

As for the prices of the rooms, Nesher says that "they are cheaper than on weekends or holidays, but this is definitely not the cheapest day of the year. Because people don't stand in lines the goal is to fill the zimmers, but each guesthouse owner has a minimum price they won't budge from. We're usually talking about weekday prices, not less. This is not a clearance sale."

In any event, Nesher concludes, "it doesn't matter if you're a believer or not. Yom Kippur is taboo, so the room capacity is not particularly high. Even zimmer owners who receive guests, and the guests themselves, respect this day."
Zimmers: Many rooms available
A short Ynet inquiry in several zimmers publicized on different websites revealed that a vacant room could definitely be found on short notice, usually for cheaper prices than usual.

We found it difficult to find zimmer owners who declared their guesthouses would be closed on Yom Kippur.

For example, the "Ahuzat Hamelech David" (King David Estate) guesthouse in the religious community of Hazon had one available cabin. Guests will not be receiving breakfast or any other type of service, and will pay NIS 800 (about $225) per night instead of the regular price of NIS 940 ($264).

All four cabins in Moshav Bat Shlomo's Zimmeritz were booked several months ago, for a regular weekday price.

Fania and Yehiel's two cabins in the northern town of Rosh Pina were still available Tuesday, and the price for two nights was NIS 1,050 ($291), including breakfast (served cold on Yom Kippur), instead of NIS 1,200 ($333) on regular days.

The Invito guesthouse in the Golan Heights community of Had Ness also offered a suite and a wooden cabin for regular weekend prices – NIS 950 ($264) for two nights in the suite, with the price including a rich breakfast, on Yom Kippur too.
Hotels prefer to shut down
An inquiry into the situation in Israeli hotels reveals that the national capacities on Yom Kippur stand at around 65%.

According to a Israel Hotels Association official, "These figures are not particular for this year, but are rather a fixed trend which has been taking place over the past few years.

"It should be noted that many of the guests are foreign tourists, particularly this year which has seen a drop in the number of Israelis visiting local hotels, alongside a rise in incoming tourism."

In order to save on costs, some hotels shut down on Yom Kippur, while others only keep some of the floors open. This situation may create an apparent higher capacity in the places which do remain open.

However, while in past years some hotels offered Yom Kippur packages for attractive prices, this year such offers were hard to find.

"The hotels prefer not to have guests, rather than lose money. Unlike in previous years, rooms are not sold short, following the price increase which has worn out the hotels' profitability."